The article has been automatically translated into English by Google Translate from Russian and has not been edited.
Переклад цього матеріалу українською мовою з російської було автоматично здійснено сервісом Google Translate, без подальшого редагування тексту.
Bu məqalə Google Translate servisi vasitəsi ilə avtomatik olaraq rus dilindən azərbaycan dilinə tərcümə olunmuşdur. Bundan sonra mətn redaktə edilməmişdir.
14 wonders of New York that are hard to believe until you see
Subscribe to ForumDaily NewYork on Google News
New York City is filled with a huge variety of both natural and man-made wonders. If you don't know which of the amazing places in our state to visit first, save this selection from Only In Your State and follow the list.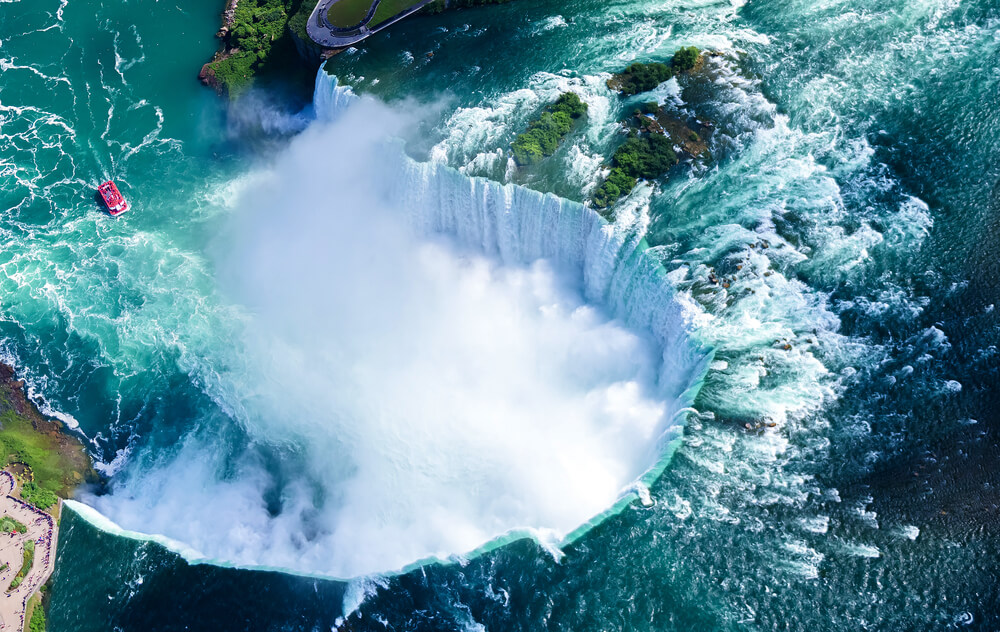 Here are 14 wonders of New York that you won't believe exist until you see with your own eyes.
Katerskill Falls
This is one of the tallest waterfalls in New York State! Located in Katerskill Park, this two-tiered waterfall won't leave you indifferent. When you see him with your own eyes, you will definitely take your breath away.
The falls are just off the Scenic Byway in the Catskill Mountains and are easy to reach and beautiful all year round.
Watkins Glen State Park
This park contains waterfalls that can be seen by walking along the Watkins Glen Gorge Trail. This place is one of the most picturesque in the state.
Castle Wing's
It's no secret that there are many fairy-tale castles preserved in New York, which seem to have come straight out of a Disney cartoon. But one of them - Wing's Castle - is truly unique in its kind. It not only looks original on the outside, but also boasts a rich history and serves as a living memory of its main creator, Peter Wing.
Eternal flame falls
Eternal Flame Falls is the most famous and impressive waterfall in New York State. Travelers from all over the world come here, and there is an explanation for this. Under the waterfall located in Buffalo, a fire is constantly burning, not created by artificial means - it was formed by nature itself. This fire is located directly under the waterfall, and it burns due to the fact that it is in this place that a natural gas leak occurs, which comes out through cracks in the rock.
Stone Town Thunder Rocks
Thunder Rocks is a stone city located in Allegany State Park. It consists of huge rocks that you can not only look at, but also explore personally, climbing them. This is a great place to visit with your family or to explore the geological history of New York City.
Erie Canal
If you live in New York, then no doubt you know what the Erie Canal is. If you are not familiar with this historical system, then it's time to get acquainted! Built in the early 1820s, the canal links the Great Lakes system to the Atlantic Ocean via the Hudson River. The length of the canal from the city of Buffalo to the city of Cojos is over 540 km.
The channel not only serves a useful function, it also provides an opportunity to enjoy the beauty around.
Maze
This place offers a journey filled with real adventure. However, it is only suitable for real adventurers.
The Labyrinth is a rock that rises almost 100 meters up. To get to it, you will need to overcome various rock formations, literally passing "through" them, including the famous Lemon Squeeze.
On the subject: 40 secret gardens and green parks hidden in New York
If you are not a gymnast or acrobat, then a couple of sections of this trail will be difficult for you. But climbing the narrowest and steepest climb at the end will be rewarded with spectacular views of the Shawangunk Mountains.
Plus, at the top, as a bonus, you'll find the Sky Top Tower, a historic stone watchtower built in 1923. Climbing to its summit, you will discover unforgettable 360-degree views.
Provided by Geyser Island Spouter
The Saratozh State Park is home to most of the 18 mineral springs that can be found throughout the city of Saratoga. One of these sources, the Geyser Island Spouter, is the grandest!
Thousand Islands
Thousand Islands is a natural landmark of Canada and the United States. It is an archipelago of islands stretching along the border between Canada and the United States along the St. Lawrence River at its source from the northeast of Lake Ontario.
The archipelago extends 80 km downstream of Kingston, Ontario. The Canadian part of the islands is located in the province of Ontario, and the American part is in the state of New York.
There are over 20 New York parks in the Thousand Islands region! A great place to explore the state's hidden treasures.
Ausable chasm
Visit Ausable Chasm to spice up your adventures. Here you will find something that is not found in any other place in the Adirondax. This is one of the oldest natural attractions in the United States! Immerse yourself in the pristine Adirondack Forest as you walk past Rainbow Falls, Elephant's Head, Column Rock, and the eerie silence of the Mystic Gorge.
Walk hundreds of meters down to stroll the natural stone footpaths and read the words engraved in the stone.
And if you want other entertainment, here, in addition to hiking, rafting, tubing and rock climbing are available.
Adirondack peaks
The tallest mountains in New York can be found in the Adirondack Park. A total of 46 mountains are available here, and each of the peaks is waiting to be conquered. If you lack motivation, then here it is: from the tops of these mountains there are breathtaking views that you will not find anywhere else in the world.
Finger lakes
Finger Lakes is a group of 11 lakes in western New York State. Streams flow from these lakes, which once created picturesque gorges. Those who love to visit these places, as a rule, have a favorite, special lake. However, choosing the most beautiful lake is not easy. But you can try.
On the subject: Waterfall House: Must-See Architectural Creation Near New York
Herkimer diamond mines
Ready for an exciting new outdoor adventure? Are you dreaming of finding a real treasure? Then you are on your way to the Herkimer Diamonds mines. Go in search of quartz crystals that were formed over 500 million years ago! This is not something you are used to seeing on a daily basis.
Niagara Falls
Niagara Falls is considered one of the top tourist attractions in New York, if not the most important. Be that as it may, this is exactly the place that every New Yorker should visit.
To understand why the waterfall attracts so many visitors, you can look at the photos with its image. But to understand how magnificent this place is, you can only visit it personally.