The article has been automatically translated into English by Google Translate from Russian and has not been edited.
Переклад цього матеріалу українською мовою з російської було автоматично здійснено сервісом Google Translate, без подальшого редагування тексту.
Bu məqalə Google Translate servisi vasitəsi ilə avtomatik olaraq rus dilindən azərbaycan dilinə tərcümə olunmuşdur. Bundan sonra mətn redaktə edilməmişdir.
Car cinemas will open in New York on May 15: a list of the best of them
Subscribe to ForumDaily NewYork on Google News
Starting May 15th, drive-in cinemas will be operational across New York State. So the residents of the region have the opportunity to have fun this weekend. The list of the best movie theaters of this type in New York Vacation Ideas.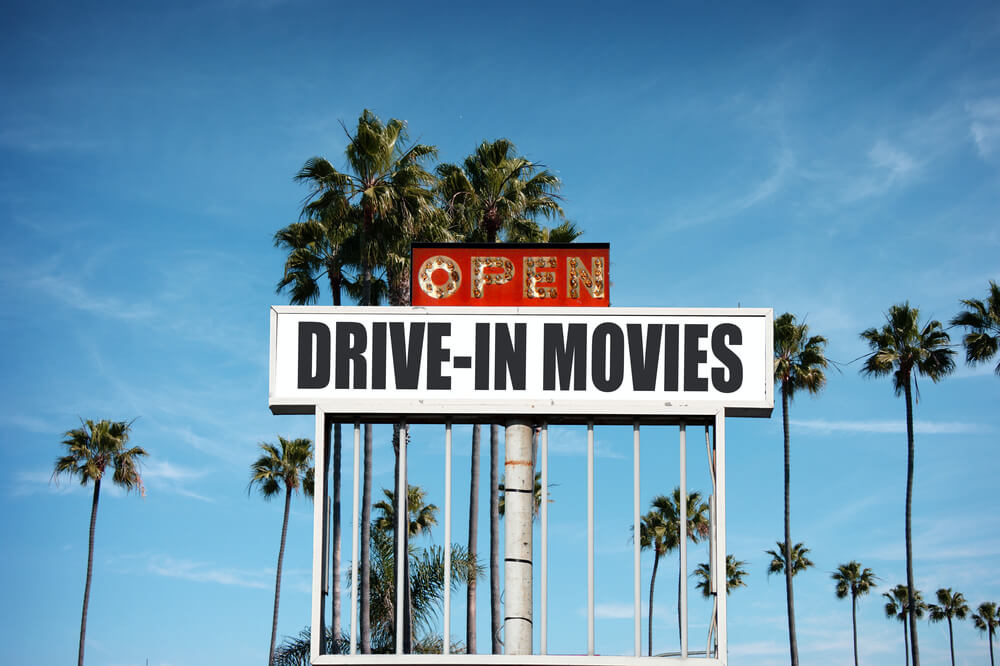 In recent years, a large number of drive-in cinemas have been repaired and reopened. These cinemas throughout New York City featured classic hits, modern blockbusters, and independent cinema. On the territory of these cinemas eateries worked, where you can buy American cuisine. They also often offer family fun, such as minigolf courses and children's playgrounds.
Starting May 15, car cinemas will be operational throughout New York State. It is unclear whether the restaurants will work with them and other entertainments, but the movies will be shown for sure.
Here is a list of the 25 best car cinemas in New York State (check the opening schedule for each of them, not everyone can resume work right away):
Bay drive-in
The Bay Drive-in is located approximately three kilometers from Alexandria Bay, at the intersection of Route 26 and Bailey Settlement Road.
In this cinema, blockbuster films are shown on two screens, the audio recording is transmitted via FM-radio for viewing in the car. Visitors who do not have access to the car stereo can rent Dewalt radio transmitters.
Address: Rt. 26 & Bailey Settlement Rd, Alexandria Bay, NY 13607. Phone: 315-482-38742.
Four Brothers Drive-in Theater
Four Brothers Drive-in Theater is located in Amenia along New York Highway 22. It is a cinema that combines retro-style with modern amenities.
Address: 4957 NY-22 Amenia NY 12501. Phone: 845-373-8178.
Finger lakes drive-in
Finger Lakes Drive-in is New York State's oldest operating movie theater, located in Auburn. It has been offering seasonal film screenings since 1947. Despite the fact that the cinema still uses a classic speaker system for showing films, an FM radio broadcast is available for listening in the car.
Address: 1064 Clark Street Road, Aurelius, NY 13021. Phone: 315-370-7780.
Hollywood drive-in
The Hollywood Drive-in was opened in 1952 by a resident of Troy, James Fisher. Today the drive-in cinema is still operated by the Fisher family, but has been completely modernized. Now it offers FM audio broadcasting and parking for 400 cars.
Address: 9270 NY-66, Averill Park, NY 12018. Phone: 518-283-4425.
Vintage drive-in
Vintage Drive-in is located in Avon and has previously offered movie screenings in the evenings throughout the summer season.
Address: 1520 W Henrietta Rd, Avon, NY 14414. Phone: 585-226-9290.
Malta Drive-in
Malta Drive-in was built in 1949. The theater is located in the city of Malta in the district of Saratoga, New York, along Highway 9. It usually offered screenings of films from late April to September.
Address: 2785 US 9, Malta, NY 12020. Phone: 518-587-6077.
Elmira drive-in
The Elmira Drive-in Cinema is operated by Zurich Cinemas and is located on Route 352. In the early 2000s, a second movie screen was added and Dolby Stereo surround sound for FM transmitters was updated. Family films and blockbusters are now shown here.
Address: 2431 State Route 352, Elmira, NY 14903. Phone: 607-734-8599.
Ozoner 29 Drive-in
The Ozoner 29 Drive-in usually shows films to the public throughout the summer season.
Address: 837 NY-29, Broadalbin, NY 12025. Phone: 518-883-5735.
Hi-Way Drive-in
HiWay Drive-in is located along 9W Highway, about 11 km from Catskill. The theater was opened in 1951 by George H.S. Farley and Raphael and Morris Klein. It usually works from April to September. It features feature films on four screens. Parking holds up to 600 cars.
Address: 10769 State Route 9W, Coxsackie, NY 12051. Phone: 518-731-8672.
Delevan twin drive-in
The Delevan Twin Drive-in is located along Highway 16 in Delevan. It usually works from April to September. As a rule, films are first shown for the whole family, and when children fall asleep, here you can watch more adult movies. Parking holds up to 600 cars.
Address: 11771 NY-16 Delevan NY 14042. Phone: 716-496-5660.
Glen drive-in
The Glen Drive-in was built in 1958 by John Gardner and is located along the 9th highway in northern Glen Falls. The theater usually operates from April to September, offering screenings of popular films on two screens. Parking is designed for 800 cars, with FM-transmission, providing viewing from a car.
Address: 983 US 9, Queensbury, NY 12804. Phone: 518-792-0023.
Jericho Drive-in
Jericho Drive-in was originally opened in 1957 by Morris Klein and is located in Glenmont along 9W. The theater usually operates seasonally from April to September, offering film screenings seven days a week on two screens. The parking lot can accommodate up to 520 cars.
Address: 21 Jericho Rd, Glenmont, NY 12077. Phone: 518-767-3398.
Greenville drive-in
Greenville Drive-in 32 has been operating since 1959. Classic films form the basis of film screenings in this cinema. The work of novice filmmakers is also demonstrated here, and after the show, discussion sessions are usually held with filmmakers.
Address: 10700 NY-32, Greenville, NY 12083. Phone 518-966-2177.
Hyde Park Drive-in
Hyde Park Drive-in is family owned and has been operating since 1950. It is equipped with an 82-inch widescreen projection screen and is adapted to accommodate up to 670 vehicles at a time. The cinema is located in Hyde Park, next to the Roosevelt House, and is under the supervision of the National Park Service as a historical site.
Address: 4114 Albany Post Rd, Hyde Park, NY 12538. Phone: 845-229-4738.
Transit drive in
The cinema is located in Lockport and was opened in 1957 by Irving and Mary Cohen, the owners of the Stuben Hornell Theater, the Allendale Buffalo Theater and the Van Buren and Sheridan Drive-in Theaters. It is still managed by the Cohen family. It hosts screenings of feature films on five screens.
On the subject: Hollywood New York: Popular Cinema Locations
Address: 6342, 6655 S Transit Rd, Lockport, NY 14094. Phone: 716-625-8535.
Valley brook drive-in
This open-air cinema was opened in 1952. Since then, it has become the largest community entertainment center in upstate New York. The theater is located in Lyons Falls in the western part of Adirondack State Park.
Address: Burdicks Crossing Rd, Lyons Falls, NY 13368. Phone: 315-348-6315.
56 Auto drive-in
56 Auto Drive-in was opened in 1955 and is the northernmost movie theater in New York State. Today, it is also the only one operating theater with drive-in in St. Lawrence County.
Address: 9783 Route 56, Massena, NY 13662. Phone: 315-764-1250
Sunset drive-in
Sunset Drive-in was opened in 1950 and is one of the oldest movie theaters in the state. The family cinema offers three cinemas where blockbusters and family films are shown. It holds up to 900 cars.
Address: 9950 Telegraph Road, Middleport, NY 14105. Phone: 716-735-7372.
Fair oaks drive-in
Fair Oaks Drive-in was built in 1970 and operated for 11 consecutive seasons. Then, for a decade, the cinema was closed until it was acquired by a new owner. He added an additional screen and increased the capacity of the cinema to 800 cars.
Address: 365 Bloomingburg Road, Middletown, NY 10940. Phone: 845-361-5773
Midway drive-in
Midway Drive-in is one of the oldest cinemas in New York State, opened in 1948 by Irving and Reuben Kanter. The movie theater was ranked among the top five in America and is a member of the United Drive-in Cinema Owners Association. It offers a 24-meter wide projection screen and can accommodate up to 600 vehicles.
Address: 2475 Route 48, Minetto, NY 13115. Phone: 315-593-0699.
Hathaway's drive-in
Hathaway's Drive-in has been operating since 1948 and holds up to 350 cars. Film screenings are usually conducted from mid-April to mid-October.
Address: 4762 State Route 67, North Hoosic, NY 12133. Phone: 518-659-6098.
El rancho drive-in
El Rancho Drive-in has been owned and operated by Broadalbin's Ozoner 29 owners and has been showing films on a classic 18 by 27 meter screen since 1952. The theater offers 400-seat parking and an FM radio broadcast for car audio.
Address: 6070 NY-5, Palatine Bridge, NY 13428. Phone: 518-883-5735.
Silver Lake Twin Drive-in
Silver Lake Twin Drive-in was opened in 1949, but in the middle of the twentieth century it temporarily did not work before it was bought by the current owners in 1966. This made it the first restored New York State movie theater. Today, films are shown on two screens here. The cinema holds up to 700 cars.
Address: 7037 Chapman Avenue, Perry, NY 14530. Phone: 585-237-3372.
Portville drive-in theater
The Portville Drive-in Theater was opened in 1970 in southwestern New York, near the Pennsylvania state line.
Address: 357 Route 417, Portville, NY 14770. Phone: 716-933-8750.
Overlook drive-in
Overlook Drive-in is a movie theater located about two hours from Manhattan in Poughkeepsie. It was opened in 1955 by Sydney and Ida Cohen and is a subsidiary of Hyde Park Drive-in. It has the largest open cinema screen in the Tri-state area, up to six stories high. The cinema can accommodate up to 750 cars.
Address: 126 De Garmo Rd, Poughkeepsie, NY 12601. Phone: 845-452-3445.