The article has been automatically translated into English by Google Translate from Russian and has not been edited.
Переклад цього матеріалу українською мовою з російської було автоматично здійснено сервісом Google Translate, без подальшого редагування тексту.
Bu məqalə Google Translate servisi vasitəsi ilə avtomatik olaraq rus dilindən azərbaycan dilinə tərcümə olunmuşdur. Bundan sonra mətn redaktə edilməmişdir.
Free tickets to a baseball game and a useful party: Ukrainians in New York are invited to an interesting event
'07.06.2023'
Olga Derkach
Subscribe to ForumDaily NewYork on Google News
Ukrainians in New York are invited to attend a baseball game for free as part of the Ukrainian Response Initiative. Baseball, music, food, entertainment for adults and children, as well as assistance are waiting for guests of the event. About it New York Communities for Ukrainian Refugees reported on his Facebook page.
On June 11, Baseball and Ukrainian Support will take place.
All those affected by the war in Ukraine are invited to enjoy a uniquely American pastime at this event.
For Ukrainians, admission is free. The admission ticket also includes a gift and a food and drink voucher. And the first 500 children will receive free ice cream.
Local community organizations and city agencies will share information with visitors about assistance available to migrants (social services, assistance, education, career development, health, English language courses, legal assistance).
On the subject: Drones, vintage vyshyvankas and help to the military: Ukrainian festival was held in Manhattan
The event will also include performances by Ukrainian singer Viktoria Vennikova and other artists, a dumplings eating contest, an exhibition of national costumes, a simultaneous chess session with an international grandmaster, and treats from everyone's favorite Veselka.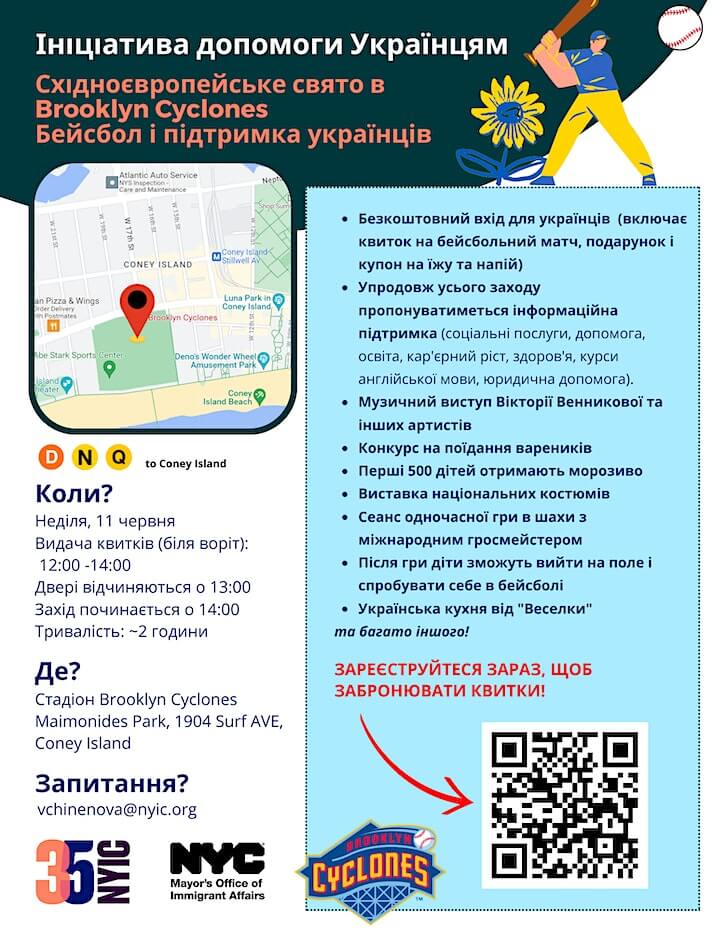 And after the match, the children will be able to take to the field and try their hand at an American sport.
If you have questions, you can contact the organizers at vchinenova@nyic.org.

The event is sponsored by the New York City Hall's Office of Immigrant Affairs and organized in partnership with Brooklyn Cyclones.
Ticket distribution will start at 12:00. Doors will open at 13:00.
Address: Brooklyn Cyclones Maimonides Park, 1904 Surf AVE, Coney Island
To book tickets, register at link.