The article has been automatically translated into English by Google Translate from Russian and has not been edited.
Переклад цього матеріалу українською мовою з російської було автоматично здійснено сервісом Google Translate, без подальшого редагування тексту.
Bu məqalə Google Translate servisi vasitəsi ilə avtomatik olaraq rus dilindən azərbaycan dilinə tərcümə olunmuşdur. Bundan sonra mətn redaktə edilməmişdir.
Nine restaurants in New York with unlimited sushi on the Eat all you can principle
'26.01.2023'
Nadezhda Verbitskaya
Subscribe to ForumDaily NewYork on Google News
There is nothing more satisfying when you are hungry than the challenge to "eat as much as you can". Especially when you're craving an endless supply of quality seafood, like delicious California rolls or tuna sashimi. No matter the occasion, sushi is never a bad idea, especially in New York. If you're looking for the best sushi restaurants in New York, these are the ones where you can eat portion after portion. Secret NYC.
Rakuzen AYCE Sushi is an Asian restaurant in Brooklyn (there is also a restaurant in Queens) offering some of the best sushi in New York! With a varied menu of rolls, sashimi and dinner plates, there is something for everyone.
Their mix and match option includes six regular rolls, one signature roll, one appetizer and a can of soda for one price, perfect for trying a little bit of everything. Also, if someone in your group doesn't like sushi, there is a large selection of classic Asian dishes such as fried rice, teriyaki dishes, seafood, pad thai and more.
Where: Brooklyn - 6408 Hamilton Pkwy.
Queens - 89-23 Queens Blvd, Elmhurst
On the subject: One New York restaurant has all the tastes of Japan, but to get there, you need to solve the cipher
2. Yuka, Upper East Side
Yuka Restaurant on the Upper East Side offers an extensive menu of classics and sushi at an affordable price. Popular rolls include the spicy crab roll with king crab, avocado and spicy mayonnaise or the New York roll with eel, shrimp, tempura and cucumber. You can also order rolls from the menu or on a platter, accompanied by miso soup or salad.
Where: 1557 2nd Ave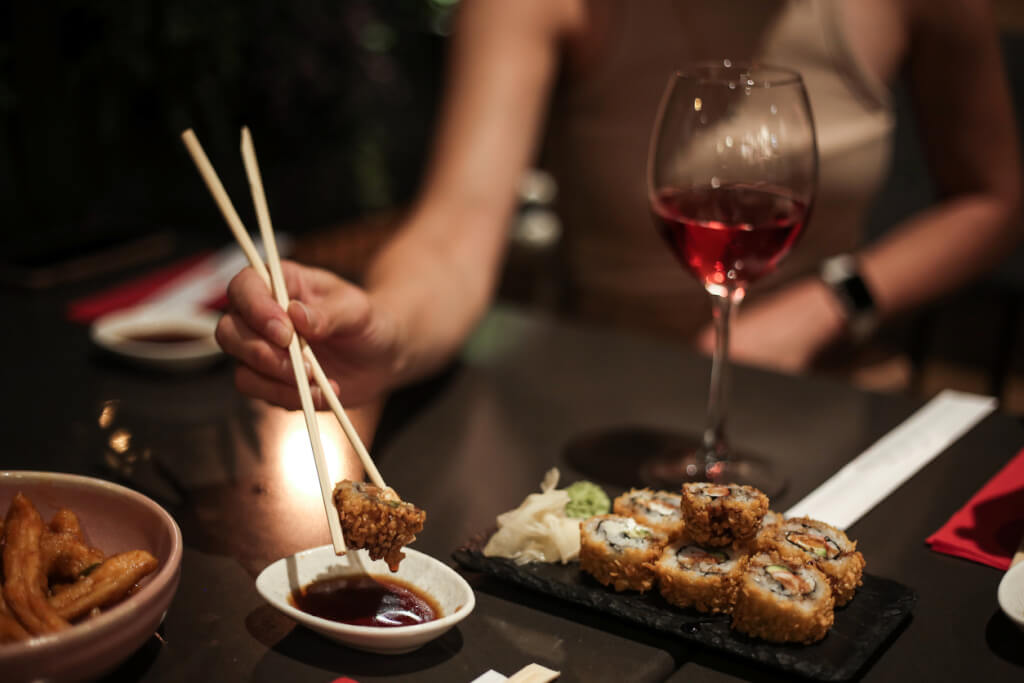 This contemporary Japanese restaurant in the East Village serves sushi and traditional dishes in a casual atmosphere. Kikoo Sushi specializes in unlimited fresh sushi, sashimi, maki rolls, hot and crispy shrimp and delicious vegetable tempura, served in your desired size and cooked to order. Popular new items on the menu are tempura udon, Colored Dragon and Butterfly roll. For an additional fee, you can add drinks to the sushi menu and choose from an impressive list of sake and Japanese beers.
Where: 141 1st Ave
4. Akino, Queens
Akino is a Japanese style restaurant in Elmhurst, Queens serving soups, salads, appetizers and a sushi bar! They are known for their generous selection of classic Japanese dishes including udon, sashimi, teriyaki, donburi, rolls, appetizers and more.
Popular specialty rolls include Volcano with tempura shrimp, avocado, spicy tuna, eel sauce and spicy mayonnaise and Dynamite with spicy tuna, avocado and cream cheese topped with shallots, tobiko and eel sauce.
Where: 82-80 Broadway, Queens
Kumo Sushi is an inexpensive Japanese eatery on the Upper West Side that has lunchtime specials such as "eat as much as you can" fresh sushi and sashimi. Here you will find a varied selection of rolls and dishes, as well as noodle soups, teriyaki, shogayaki, don buri, katsu and much more.
Popular specialty rolls include the kumo roll, spicy tempura shrimp, kani and tobiko with eel and avocado, or the Pink Lady roll with salmon, avocado and cucumber. The ordering process is carried out through the iPad, which ensures speed and efficiency!
Where: 165 W 72nd St.
This upscale Upper East Side sushi place serves a variety of rolls, sashimi and more in a casual and stylish setting. Sushi Para offers an all-you-can-eat lunch and dinner menu, making it the perfect place for a quick get-together or weekend getaway. At a low price per person, diners can choose from a large selection of classic rolls and specialties such as the World Series roll with soft crab, cucumber, tuna, avocado and eel tempura.
Where: 1457 3rd Ave
Koko Sushi is a traditional Japanese eatery serving high quality sushi in a chic modern setting. In addition to sushi for everyone to eat, there is also a selection of various ramen and bubble tea.
Through Groupon, you can get an exclusive offer that allows visitors to enjoy sushi, sashimi and teriyaki, plus two drinks, for two hours. It offers both diners' favorites such as spicy salmon and California rolls, as well as specialties such as the Surf and Sod roll with Kobe beef and shrimp.
Where: 214 1st Ave
The Buffet is an upscale Asian buffet in College Point, Queens offering unlimited sushi, hibachi and entrees. For a set price, you will have unlimited access to all items on the menu, including sushi, for 90 minutes.
They offer a wide selection of standard rolls, including rolls "California", "Philadelphia", "Dragon", "Fire" and others. In addition, you can enjoy a selection of sashimi including red snapper, baby scallop and ahi tuna. Not to mention freshly cooked hibachi with meat and seafood of your choice, including squid and yakisoba.
Where: 20-07 124th Street, Queens
This elegant Midtown East sushi place serves up innovative Japanese cuisine and a fantastic 'eat as much as you can' option. Hamachi 34's chic interior with lighting and a large wooden bar in the center makes it the perfect setting for any occasion.
The menu features a wide selection of famous Japanese dishes and rolls, including sushi specialties such as "Rock and Roll" with king crab, mango and avocado, topped with scallop tempura, massago, spicy mayonnaise and eel sauce.
Where: 56 E 34th St