The article has been automatically translated into English by Google Translate from Russian and has not been edited.
Переклад цього матеріалу українською мовою з російської було автоматично здійснено сервісом Google Translate, без подальшого редагування тексту.
Bu məqalə Google Translate servisi vasitəsi ilə avtomatik olaraq rus dilindən azərbaycan dilinə tərcümə olunmuşdur. Bundan sonra mətn redaktə edilməmişdir.
Where to Meet Santa Claus in New York: 15 Best Places to Make a Christmas Wish
'15.12.2022'
Nadezhda Verbitskaya
Subscribe to ForumDaily NewYork on Google News
Nothing left before Christmas. And this means that there is still time to look at Santa Claus if you are in New York! Of course, in December, each of us has a lot to do on the eve of the holidays. But still, it's worth at least stopping and saying hello to this holy Christmas grandfather. If you want to take a photo with him or just check which of the lists (naughty or good) your name is, we will show you where to do it, reports Secret nyc.
Macy's Free Santaland Winter Santaland has been open for a few weeks now and Santa will be taking pictures here until Christmas Eve (December 24th)! The meeting takes place on the 8th floor of Herald Square Macy's and requires a reservation. 5 days before the meeting with Santa, you can make a reservation on the website. Note that RSVP only guarantees a place in the queue for that day, not a specific time. Among other things, it is possible to purchase a photo with Santa for a small fee!
Book a seat here.
Address: 151 W 34th St, Floor 8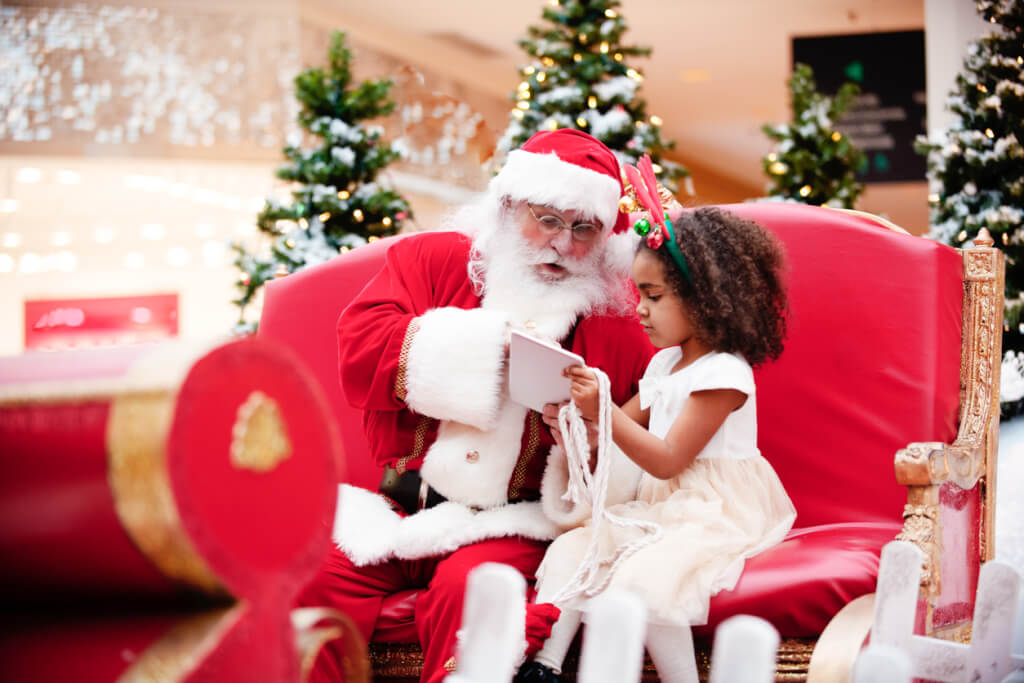 Santa's Corner returns to the Bank of America Winter Village in Bryant Park on December 16th and will be open for 7 days until Christmas! Santa until December 22 is waiting for his guests near the Christmas tree in Bryant Park from 10 am to 12 noon. You can bring your own camera for photos or have one of the elves take them for you! The event is free for everyone.
Address: 42nd Street and 6th Ave
Hurry up to take a selfie with Santa at Brookfield Place from December 14th to 24th. You can book seats in advance or buy tickets on the same day on the spot. The good news is you can even bring your dog! Be sure to check out other places in Brookfield Place: the ice rink, the magnificent Luminaries installation and the Après Hour adult cocktail party.
Address: 230 Vesey St (Winter Garden at Brookfield Place)
4. Bloomingdale's, Midtown East
You can meet Santa and take pictures with him for free at Bloomingdale's until Christmas Eve. Hurry up to decorate their Brown Bear sweater on Saturdays from 12 pm to 18 pm! Meeting with Santa here takes place on a first-come, first-served basis. See all dates and times here. And be sure to check out their stunning display cases.
Address: 1000 Third Avenue, 59th Street and Lexington Ave
5 Rockefeller Center, Midtown
Greet Mr. Klaus at an extreme height as he hosts a meeting and greet at the top of Rockefeller Plaza every day until the 24th. A ticket is required to enter the summit, and additional tickets to meet Santa are sold locally. Check out the full schedule and information here.
Address: 30 Rockefeller Plaza
6 Paley Center for Media, Midtown
The Paley Media Center is currently hosting the PaleyLand exhibit, which includes 4 floors of holiday entertainment! Take pictures with Santa, enjoy free hot chocolate, check out the festive railroad display, and more. All this for those who have purchased tickets in Paley! The exhibition runs until January 8th.
Learn more about PaleyLand here.
Address: 25W 52nd St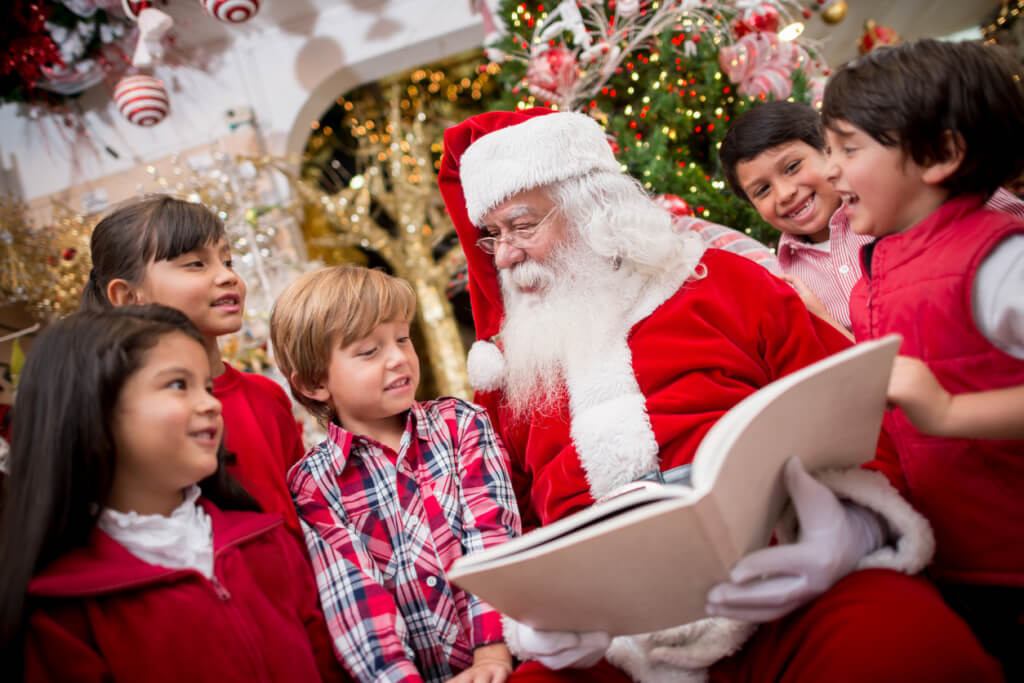 7 Empire State Building, Midtown
The Empire State Building is one of New York's favorite lookouts. And for the first time this holiday season, she will be hosting Santa. After meeting him, don't forget to check out the new Starbucks Reserve, which opened here last month.
Address: 20 W 34th St
On the subject: This year you can meet Santa Claus in the Empire State Building: this is the first time in the history of New York
8. Queens Center Mall, Queens
Santa Claus will be waiting for his guests at the Queens Center Mall until Christmas and will offer them free visits and photo shoots for a small purchase. Check out the full timetable here and be sure to check back here after you've done your holiday shopping.
Address: 90-15 Queens Blvd, Queens
9. Harry's Table, UWS
Harry's Table by Cipriani hosts Santa Claus on certain days until Christmas (see above). This is a free and open to the public event that will feature holiday decorations, music, treats, and of course photos with Santa himself.
Address: 235 Freedom Pl S
10. Historic Richmond Town, Staten Island
From December 10th to 18th, Santa and lots of Christmas fun awaits in Staten Island's historic Richmond Town! In addition to being able to take pictures with Mr. C, there will be plenty of activities such as horse-drawn carriage rides, celebratory food and drink, and even a snowball fight! A ticket is required to enter.
Find out more about this weekend's celebrations here.
Address: 441 Clarke Avenue, Staten Island
11. New York Irish Center, Long Island City
This weekend, this cultural center of New York invites children to a photo shoot and fun! In addition, tea, coffee and snacks will be served, and every child who walks through the door will receive a free gift! You can register here.
Address: 1040 Jackson Ave, Queens
12. Kings Plaza Shopping Center, Brooklyn
Santa's headquarters is located on the 2nd level of the King's Plaza shopping center (next to Zara) at various hours before Christmas. If desired, you can book a place online in advance. here.
Address: 5100 Kings Plaza, Brooklyn
If you're looking at the holiday lights at Hudson Yards, be sure to stop by here for a free photo with Santa! It is located on the 4th level of shops, reservations are not required, admission is free on a first-come, first-served basis. Santa will come on certain days until December 16th. See full schedule here.
Address: Hudson Yards
14. The Mall at Bay Plaza, The Bronx
Bronx residents can stop by this mall anytime through December 23rd to chat with Santa. It is located on the third level in the food court. You can say hello to him and leave memories of Christmas. Booking is free, you can make it here.
Address: 200 Baychester Ave, The Bronx
15. NYSoM Holiday Mania, East Harlem
Join the New York State of Mind on December 17th for the Holiday Mania Event, full of holiday activities such as Winter Wonderland, Kwanzaa Village, Hanukkah Town and of course, Santa's visit! This East Harlem event is free to the public, and families will be given gifts. More information about the holiday can be found here.
Address: 2050 2nd Ave