The article has been automatically translated into English by Google Translate from Russian and has not been edited.
Переклад цього матеріалу українською мовою з російської було автоматично здійснено сервісом Google Translate, без подальшого редагування тексту.
Bu məqalə Google Translate servisi vasitəsi ilə avtomatik olaraq rus dilindən azərbaycan dilinə tərcümə olunmuşdur. Bundan sonra mətn redaktə edilməmişdir.
The best small town to live in the USA is in New York State, and here's what's interesting about it
'31.08.2023'
Alina Prikhodko
Subscribe to ForumDaily NewYork on Google News
While the big cities of New York, Los Angeles and Chicago are appealing to some, small-town charm is preferable to others. Elmira, New York, ranks first among small cities in America for affordability, education, safety and other indicators, reports CNBC.
Company All Star Homes, which specializes in roofing, siding and guttering, compiled a ranking of America's best cities by analyzing cities with populations of less than 100 people. To determine the rating, cities were assessed according to four key parameters on a 100-point scale:
Community
Security
affordable life
Education
The ranking also used data Zillow Home Values, National Center for Education Statistics - NCES), FBI Crime Data Explorer, The Bureau censuses USA Ministries US agriculture and National Park Service.
The small cities of New York ranked five out of ten in the top ten places among all small cities in the United States. The city of Elmira headed this list - the county seat of Chemung County, New York.
Elmira is located in southern New York State a short distance north of the Pennsylvania state line.
Many people know that Elmira is the birthplace of the great American poet Mark Twain, but Elmira has also been the birthplace of many famous people. Current Massachusetts Governor Charlie Baker was born in Elmira in 1956. World-renowned fashion designer Tommy Hilfiger is also an Elmira native who graduated from Elmira Free Academy in the mid-1970s. Elmira is home to Ernie Davis, the first African American to win the Heisman Trophy for his achievements as a football player.
In addition to the list of prominent people born and raised in Elmira, the city has a long history as a manufacturing and transportation center. During the heyday of railroad transportation, Elmira was a vital stop on the New York-Erie line. Beginning in the 1800s, the New York–Erie Railroad was built through Elmira, connecting Buffalo, Albany, New York City, and Syracuse. This railroad connection not only made Elmira a major mustering point for troops during the Civil War, but also opened up endless manufacturing opportunities for the city.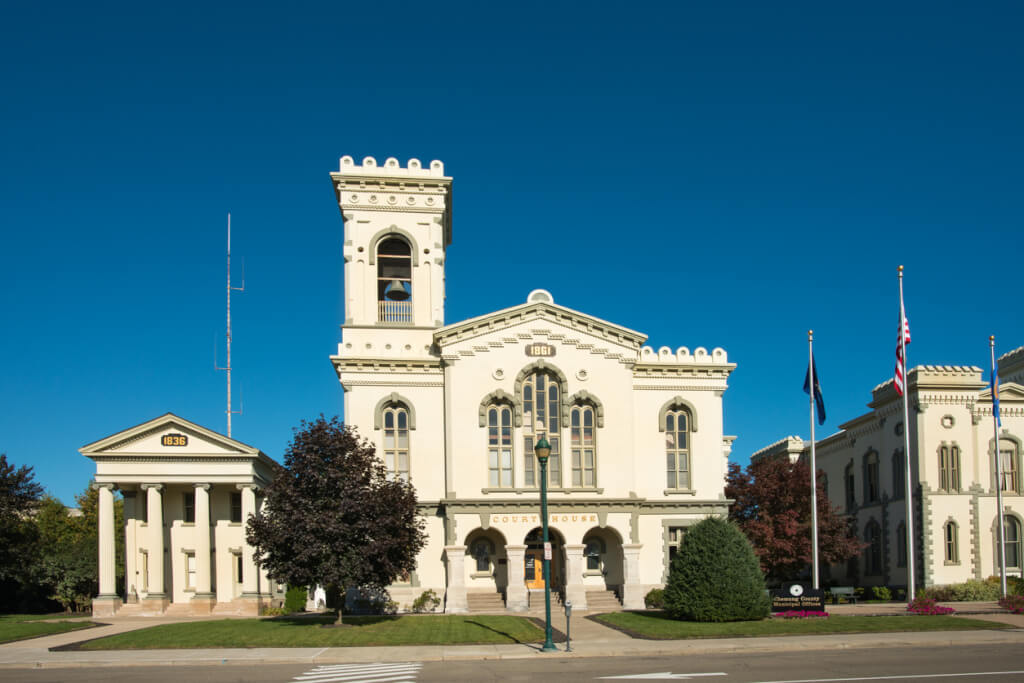 Interesting facts about the city
Elmira College was founded in 1855 as a women's college and was the first college in the country to offer a program of study equal to men's.
In its heyday, Eldridge Park was one hell of a big amusement park and had some fantastic wooden roller coasters that could scare the hell out of you.
Mark Twain (Samuel Clemens) married Elmira native Olivia Langdon, wrote many of his famous stories at Quarry Farm, and is buried in Woodlawn Cemetery. His office, where he wrote "The Adventures of Tom Sawyer" and other stories, is located at Elmira College.
Former astronaut Eileen Collins, a native of Elmira, was the first female pilot and the first female spacecraft commander.
The first mass-produced mustard was created by Elmyra's coffee, tea, and spice merchant Robert Timothy French, who moved to New York in 1880 and founded R.T. French & Sons with Elmyra's son George Jackson French. Mustard made its debut at the St. Louis World's Fair in 1904.
Fans of classic cinema and Laurel and Hardy films will undoubtedly be familiar with the work of legendary film producer Hal Roach. He was born in Elmira and buried there.
Top 10 Small Towns in the USA
Elmira, New York.
Corning, New York.
Utica, New York.
Binghamton, New York.
Hattiesburg, Mississippi.
Bowling Green, California and Hannibal, Massachusetts.
Charlottesville, Virginia, Greenwood, Mississippi, Watertown, New York.
Meridian, Mississippi and St. Joseph, Massachusetts.
Steubenville, Ohio.
Quincy, Illinois.
No. 500 on the list, Corning, New York is best known as the headquarters of Fortune XNUMX-listed Corning Incorporated, a glass and ceramics manufacturer whose customers include Apple.
New York is home to, among other things, the Corning Museum of Glass, which houses one of the world's largest collections of glass objects. According to Zillow, the median home value in Corning is $151, an increase of 198% over the past year.
The third city included in the top ten is Utica, located in New York state. According to the report, Utica, like other New York cities ranked in the top four, has a large number of farmers' markets within a 50-mile radius; the population diversity rating is 66% and housing costs are relatively affordable.