The article has been automatically translated into English by Google Translate from Russian and has not been edited.
Переклад цього матеріалу українською мовою з російської було автоматично здійснено сервісом Google Translate, без подальшого редагування тексту.
Bu məqalə Google Translate servisi vasitəsi ilə avtomatik olaraq rus dilindən azərbaycan dilinə tərcümə olunmuşdur. Bundan sonra mətn redaktə edilməmişdir.
Millions per Dose: Top 10 Most Expensive Drugs in the US in 2023
'23.05.2023'
Olga Derkach
Subscribe to ForumDaily NewYork on Google News
In the era of new gene therapy methods, new drugs are also becoming the most expensive. This can be attributed to the potential of gene therapy as a one-time treatment. It is this factor that has prompted drug manufacturers to put huge price tags on their therapeutic agents. And while the high cost of gene therapy has not always been well received in other parts of the world, groundbreaking drugs have found a foothold in the US. What drugs became the most expensive in the US in 2023, the publication said Fierce Pharma.
Many of the drugs on this list, which focuses on drugs approved by the US Food and Drug Administration (FDA), will be well known to industry watchers. Bluebird, as well as CSL Behring and uniQure quickly became famous last year, with price records creeping up each time.
From Zynteglo's Bluebird thalassemia therapy at $2,8 million per dose to CSL and Hemgenix for the treatment of hemophilia at $3,5 million. Three of the newest gene therapies coming out of the US have quickly skyrocketed to the top of the list of the most expensive products in the industry.
But gene therapy isn't the only drug that deserves a place on this list.
Orphan drugs such as Eiger BioPharmaceuticals' Zokinvy, the first drug approved in the US for Hutchinson-Gilford syndrome and processing-deficient progeroid laminopathy, cost about $1,7 million a year. Unlike gene therapy, this drug does not cure the disease, but helps to live with it.
Other costly drugs beyond gene therapy include Danyelza Y-mAbs for high-risk relapsed or refractory neuroblastoma, Chiesi for leptin deficiency Myalept, and Immunocore's T-cell receptor therapy for uveal melanoma called Kimmtrak.
This rating is as relevant as ever, drug prices are causing increased attention in the US.
The passing of the Inflation Reduction Act (IRA) last year was one of the first tangible changes in drug pricing reform in recent years. And legislators do not stop there.
In April, Senate Democrats redoubled their efforts by introducing legislation that would allow centers for Medicare and Medicaid services to negotiate drug prices much sooner than specified in the IRA.
At the same time, public and political attention to drug costs has prompted some drug manufacturers to take matters into their own hands.
Earlier this year, three major diabetic drug makers - Eli Lilly, Novo Nordisk and Sanofi - cut prices on many of their products and changed their price increase programs.
But while these actions have affected older drugs, many of the industry's newer products continue to break price records. And this is unlikely to change in the coming years.
10. Folotyn
Company: Acrotech Biopharma
Disease: relapsed or refractory peripheral T-cell lymphoma.
Cost per year: $ 842
Folotyn by Acrotech Biopharma has been approved by the FDA since 2009, but still remains one of the most expensive drugs on the planet. The approval date makes it the oldest drug on this list.
A drug approved for relapsed or refractory peripheral T-cell lymphoma costs more than $2022 a year, according to GoodRx in 840. This figure comes after Acrotech increased the drug's price by 000% in January 3.
Patients typically receive about 135 ampoules of the drug a year, GoodRx says. With vials costing over $6200 before discounts, Folotyn has managed to maintain its place among the world's most expensive drugs even as gene therapy and other new products hit the market.
On the subject: Scientists have found an effective cure for migraine and you can organize therapy at home
Luckily for patients, after GoodRx's latest count of the world's most expensive drugs, a generic has been released. Last December, Fresenius Kabi released its version of the drug. The generic maker does not comment on pricing for specific products, the spokesperson said.
According to the Lymphoma Research Foundation, peripheral T-cell lymphoma, a subtype of non-Hodgkin's lymphoma, forms in lymphoid tissues and is considered aggressive or rapidly growing. Apart from Folotyn, other treatments include the CHOP chemotherapy regimen and Adcetris Seagen for some patients.
Folotyn's pricing attracted a lot of attention right after it was approved in 2009. That same year, The New York Times drew attention to the fact that the drug's monthly list price was $30 at the time, including citing a UnitedHealthcare executive who called it "shameless."
At the time, Allos Therapeutics was selling the drug. The company defended the price, pointing to development costs and the fact that patients had no other treatment options for aggressive cancer.
Allos has since sold Folotyn to Spectrum Pharmaceuticals in a deal announced in 2012. Then in 2019, Acrotech acquired Spectrum's drug suite, including Folotyn, for $300 million.
In addition to Folotyn, New Jersey-based Acrotech sells several other products for patients with various types of cancer. The company is a subsidiary of the Indian Aurobindo.
9. Luxturna
Company: Spark Therapeutics
Disease: double-field RPE65-mediated hereditary retinal disease.
Treatment cost: $ 850
While not the most expensive gene therapy on this list, Spark Therapeutics' rare disease Luxturna is definitely not cheap.
Luxturna received approval in December 2017 and was one of the industry's first gene therapies to pass regulatory review. A single therapy is intended to treat a hereditary form of vision loss that can lead to blindness. Luxturna costs $850, or $000 per eye.
Ahead of the drug's approval, Spark Therapeutics said the cost of the drug would exceed $1 million.
The drug's $850 price tag was one of the highest when it was released in early 000, though many more expensive gene therapies have since entered the market. However, the launch of Spark comes at a time when orphan drug makers regularly draw criticism for their starting prices.
Fearing this situation, Spark introduced prices based on the results of the deal with affiliates Harvard Pilgrim and Express Scripts to soften the blow. Under these arrangements, Spark agreed not to charge the full fee if her medication didn't work.
However, not everyone was happy with Spark's pricing.
"Spark Therapeutics charges as much for Luxturna as they think they can get away with," Patients for Affordable Medicines President David Mitchell said shortly after the cost of the drug was made public. "Our system cannot work with such unreasonable prices."
Spark is partnering with Swiss pharmaceutical company Novartis to market its gene therapy. Also sensitive to price pressures — especially in Europe, where the cost debate has proven the failure of other gene therapies — Novartis has previously said it is developing "innovative" payment plans to help drive Luxturna's costs down.
Apparently, Novartis's efforts paid off: at the end of 2019, the English drug cost control service NICE approved the therapy.
Meanwhile, in the US, the Institute of Clinical and Economic Reviews previously found that Luxturna must cost 50-57% less to be considered cost-effective.
8. Kimmtrak
Company: Immunocore
Disease: uveal melanoma
Cost per year: $ 975
Immunocore's Kimmtrak, approved in January 2022, was the first treatment for unresectable or metastatic uveal melanoma and the first T-cell receptor treatment to receive FDA approval.
A type of eye cancer, uveal melanoma, is a rare malignancy. Approximately 1700 diagnoses are made in the United States each year. Local radiation therapy is usually used to prevent metastasis, but about half of patients develop metastasis afterwards and the prognosis is poor.
To be eligible for Kimmtrak, the patient's tumor must be positive for HLA-A*02:01, a cell surface marker.
The drug is a bispecific drug consisting of a T-cell receptor fused to CD3 to redirect T-cells to targets for glycoprotein-100-positive cells.
Kimmtrak is available in disposable vials administered as an infusion once a week. Immunocore launched the drug for $18 per vial, which equates to an annual cost of $760. But most patients won't be able to take the drug for that long.
In the Phase 3 IMCgp100-202 study, only 31% of patients were alive without disease progression at six months. This is compared to 19% for patients in the control group who received the investigator's choice of treatment, including Merck's Keytruda, Bristol Myers Squibb's Yervoy, or dacarbazine for chemotherapy.
Based on an average treatment duration of 5,3 months, Immunocore initially estimated that Kimmtrak would cost an average of $400 per patient. But in a recent report to investors in March, Immunocore reported that the actual length of treatment had risen to nine months. This means that the average cost per patient is about $000.
The company has created a patient support program called Kimmtrak Connect that makes the drug available.
In 2022, Immunocore recorded $141 million in sales of Kimmtrak. British Biotech is also testing Kimmtrak, either alone or in combination with a PD-1 inhibitor, in phase 2/3 in patients with advanced melanoma.
7. Danyelza
Company: Y-mAbs Therapeutics
Disease: relapsed or refractory high-risk neuroblastoma.
Cost per year: 1,01 million dollars.
Y-mAbs Therapeutics only has one approved product on the market, but this drug has certainly made a splash.
Approved in 2020, Y-mAbs Danyelza is indicated for the treatment of certain patients aged 1 year and older with high-risk relapsed or refractory neuroblastoma in the bone or bone marrow. In particular, the FDA has approved the drug—in combination with granulocyte-macrophage colony-stimulating factor—for patients who have demonstrated a partial response, a non-significant response, or stabilized disease after prior treatment.
According to GoodRx estimates for 2022, the drug costs more than $21 per vial and costs about $000 million per patient per year. In December 1,01, Y-mAbs Therapeutics increased the price of the drug by 2021%, according to GoodRx.
The drug brought in $2022 million in 49,3, up 50% from 2021, according to Y-mAbs' March earnings report. The company expects $60 million to $65 million this year. Danyelza also received recent approval in China and will launch there in 2023.
As of the end of 2022, Y-mAbs Therapeutics has delivered the drug to 48 treatment centers across the US.
It is important to note that the drug is available under the FDA's accelerated approval program. This means that a company may need to prove the drug's efficacy in a confirmatory trial in order to gain full approval and ensure long-term availability.
Danyelza Y-mAbs was denied by the FDA in December 2022 for another neuroblastoma treatment called 131I-omburtamab. Then, earlier this year, the company cut its staff and cut back on production.
6. Zokinvy
Company: Eiger BioPharmaceuticals
Disease: Hutchinson-Gilford progeria syndrome and progeroid laminopathy with processing deficiency.
Cost per year: $ 1,07 million
It is the first drug on this list that is not a valuable therapy but costs more than $1 million a year.
An orphan drug approved in 2020, Zokinvy entered the scene as the first drug approved in the US for the treatment of progeria Hutchinson-Gilford syndrome and processing-deficient progeroid laminopathies in patients from 1.
Hutchinson-Gilford and progeroid laminopathies are two distinct fatal diseases characterized by premature aging.
An estimated 400 people worldwide have Hutchinson-Gilford disease, compared to about 200 people with processing-deficient progeroid laminopathy.
With both diseases, most patients die before the age of 15 from heart disease or stroke.
Unlike gene therapy, Zokinvy is not a cure. As a farnesyl transferase inhibitor, the drug targets the toxic accumulation of progerin or progerin-like farnesylated proteins.
Although Zokinvy dosage varies by body surface area, according to GoodRx and Drugs.com, its average price per year is about $1,07 million.
5.Myalept
Company: I asked Pharmaceuticals
Disease: leptin deficiency
Cost per year: 1,26 million dollars.
For many years, the leptin deficiency drug Myalept has been at the top of the annual rankings of the most expensive drugs in the world. That was until the advent of gene therapy.
However, with an annual cost of about $1,26 million, this product has established itself as one of the most expensive drugs sold in pharmacies. One vial of the drug costs $5, and patients use an average of 867,52 vials per month.
This amounts to a monthly cost of $105. However, the average number of vials used may vary from patient to patient.
Myalept, a recombinant form of human leptin, received FDA approval back in 2014 for the treatment of leptin deficiency in patients with congenital or acquired generalized lipodystrophy. Lipodystrophy is a group of rare conditions characterized by extensive loss of adipose tissue under the skin, which causes a deficiency of the hormone leptin and leads to metabolic disorders.
The subcutaneous injection has changed hands many times over the years. At the time of approval, AstraZeneca was working on acquiring it from Bristol Myers Squibb. BMS received the drug through a 2012 buyout of Amylin Pharmaceuticals.
AstraZeneca eventually sold Myalept to Aegerion Pharmaceuticals for $325 million. In 2019, Amryt Pharma acquired the drug after the company bought Aegerion after the latter filed for bankruptcy.
Myalept stayed with Amryt until Italy's Chiesi Farmaceutici acquired the company and its rare disease products for $1,48 billion earlier this year.

In early 2021, Myalept's (PDF) list price jumped from $5093 per vial to $5297, raising the then-annual price to $1,14 million. Its price has risen many times over.
The drug is the only approved treatment for a rare disease, so there are no cheaper options. In 2021, Myalept generated $141 million in annual sales.
4. Zolgensma
Company: Novartis
Disease: spinal muscular atrophy
Cost per dose: $ 2,25 million
Like the other gene therapies on this list, Novartis' Zolgensma is a one-time treatment that lasts a lifetime, or at least many years. Although it comes with a high price tag, its benefits are expected to last for a long time.
By comparison, Biogen's Spinraza, the first drug approved for spinal muscular atrophy (SMA), has an annual cost of $750 in the first year and $000 thereafter.
Excluding additional administrative fees associated with Spinraza injections, the accrued cost of Biogen is higher than that of Zolgensma starting in year five.
A Novartis spokesperson said Zolgensma's price "reflects the transformative nature and benefits of gene therapy and the long-term value it provides."
SMA is a rare genetic disorder caused by a mutation in the SMNA1 gene. Approximately 500 children are born with SMA each year in the United States.
Zolgensma uses adeno-associated virus as a vector to deliver a functional copy of the human SMN gene into target motor neuron cells to produce normal SMN proteins to support muscle function.
Zolgensma, approved in 2019 for children with type 1 SMA, has become an innovative treatment with an equally revolutionary price tag.
But Novartis has sought to offset the price tag shock by offering flexible payment models.
These include paying in installments for five years, with payments continuing only if Zolgensma continues to work for patients. This approach, in fact, equalizes the annual cost of Zolgensma with Spinraza. This approach has become common in the US for costly one-time gene therapy.
It looks like the strategy worked. According to a company spokesperson, Novartis has provided Zolgensma with a favorable coverage policy covering about 97% of patients under commercial insurance and 86% under the Medicaid program.
Meanwhile, data on the drug continues to come in over the long term, showing its long-term effects. According to a recent March update, all 10 Phase 1 patients included in the ongoing 15-year observational study maintained their previous results, with the longest follow-up reaching seven and a half years. Moreover, three patients managed to stand up with assistance during the follow-up period.
3.Zynteglo
Company: bluebird bio
Disease: transfusion dependent thalassemia
Cost per dose: $ 2,8 million
Four years ago, after Bluebird received regulatory approval in Europe for its Zynteglo gene therapy, the company set a price of 1,575 million euros (about $1,8 million) for the treatment of transfusion-dependent thalassemia (TDT).
But this figure has overwhelmed the cost-benefit standards. Bluebird announced it was pulling out of Europe in August 2021, calling the price situation "untenable" and the market "broken".
A year after the FDA approved Zynteglo, Bluebird found a much more attractive market and set a new price for its gene therapy accordingly. The company decided to charge $2,8 million per dose, making Zynteglo the most expensive drug in the US at the time.
Zynteglo didn't hold the crown for long. Four weeks after it was approved, Bluebird received FDA approval for another gene therapy drug, Skysona, and set its price at $3 million.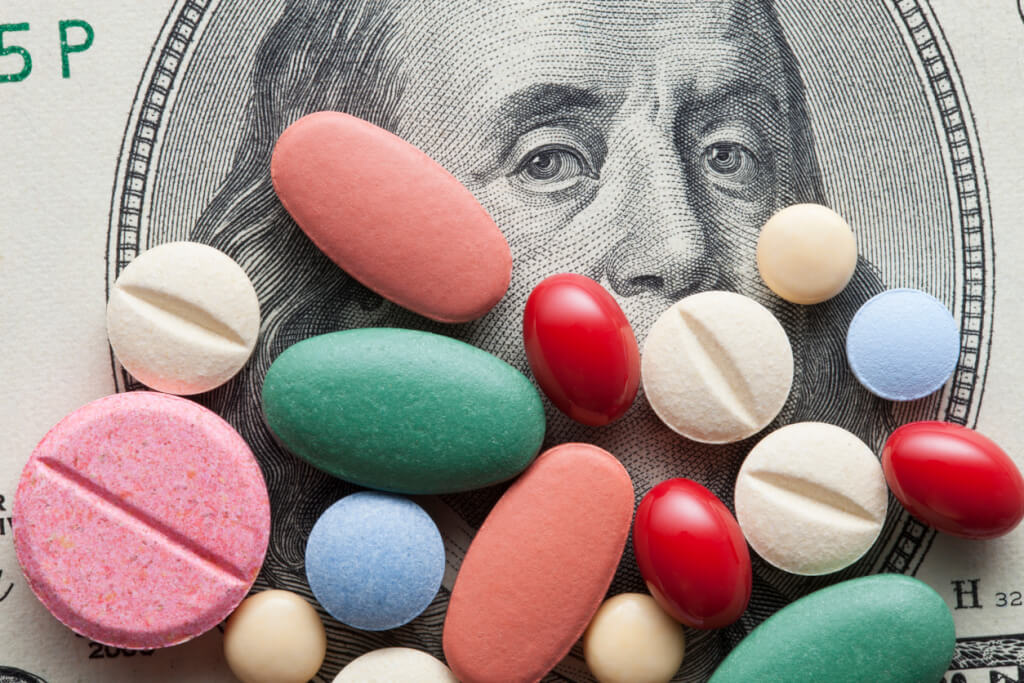 Zynteglo's price made a splash. But the company pointed out that this is a relatively good deal compared to the cost of standard treatment - blood transfusions, which patients may need every two to five weeks.
They can cost more than $6 million over the course of a patient's life, Bluebird says.
The Institute for Clinical Economic Review (ICER), which conducts cost-benefit analysis of treatments, has approved Bluebird's price.
In its assessment, ICER praised Bluebird's contracting process with Zynteglo. The company is committed to reimburse 80% of the cost of treatment if patients do not achieve independence from transfusions.
Zynteglo is for patients with beta thalassemia who require regular red blood cell transfusions. The disease, which results in a lack of oxygen in the blood, is inherited and affects one in every 21 newborns. There are 000 to 1300 people in the US with this disease.
2. Skyson
Company: bluebird bio
Disease: cerebral adrenoleukodystrophy
Cost per dose: $ 3 million
Four weeks after Bluebird bio received FDA approval for Zynteglo and made it the most expensive drug in US history, the Massachusetts-based company received another gene therapy approval and took another step forward in pricing.
Because Skysona was valued at $3 million by Bluebird, the treatment for cerebral adrenoleukodystrophy (CALD) became the most expensive drug approved by the FDA at the time. But this difference lasted only two months. In November, CSL Behring won the price tag with the approval of Hemgenix, a $3,5 million gene therapy.
How did Bluebird come to its price for Skysona? Chief Commercial and Operating Officer Tom Klima said during the company's quarterly presentation in March that it was a "data-driven" process that "considered positive clinical outcomes, improved quality of life, healthcare system cost savings, and potential social impact on patients."
Following Skysona's approval, Bluebird CEO Andrew Obenshine said the price reflects "the clinical benefit it provides as a much-needed treatment option to slow the progression of neurological dysfunction in children affected by a progressive, irreversible and fatal rare disease."
To encourage the use of gene therapy, some companies are offering results-based deals. Bluebird does this with Zynteglo, returning 80% of its price if it fails. But with Skysona, the company does not give such a guarantee.
The complexity of CALD makes such a scheme "extremely difficult to implement for both Bluebird and payers," Obenshine explained.
For its part, the FDA had enough questions about Skysona to give it a conditional approval. To retain approval, Bluebird may have to provide data to support its effectiveness.
Bluebird administered its first commercial dose of Skysona in March to a 6-year-old boy from New York. It happened at Boston Children's Hospital, one of 12 Qualified Treatment Centers (QTCs). The company expects to have 2023 to 40 QTCs on the network by the end of 50, helping to maximize reach.
On the subject: Scientists have learned to 'turn off' the symptoms of autism with an inexpensive drug
In addition to the cost of gene therapy research and development, the production of treatments is also costly and labor intensive. After collecting cells from patients, it takes 55 to 60 days to produce a dose of Skysona.
The company will never get huge sales from Skysona. CALD is extremely rare, affecting approximately 50 people a year in the US. The company expects to treat approximately 10 patients per year. CALD affects boys during their growth period. It is approved for children ages 4 to 17.
1. Hemgenix
Company: CSL Behring, uniQure
Disease: hemophilia B
Cost per dose: $ 3,5 million
With a whopping $3,5 million price tag, CSL Behring and uniQure have received the world's most expensive new drug, Hemgenix.
A single gene therapy received FDA approval in November for the treatment of adults with hemophilia B who are currently on factor IX prophylactic therapy. Patients with blood disease usually require regular factor IX prophylactic infusions to replace or supplement low levels of clotting factor. This process becomes extremely expensive over the course of a lifetime.
Hemgenix is ​​the first of its kind in the hemophilia B market because it allows patients to produce their own factor IX.
Despite the eye-popping price, the companies believe the drug will provide "significant cost savings for the entire health care system and significantly reduce the economic burden of hemophilia B by reducing the annual bleeding rate, reducing or eliminating prophylactic therapy, and increasing factor IX that persists for many years." , CSL Behring said in a statement.
Patients with moderate to severe hemophilia B can cost healthcare systems more than $20 million over their lifetime, CSL says.
Prior to approval, experts from the Institute for Clinical and Economic Analysis said the drug's fair price could be in excess of $2,9 million. In reaching this conclusion, the panel cited "improved health and the potential for significant cost recovery by eliminating the need for very expensive preventive treatments."
CSL noted that the $3,5 million price does not reflect expected discounts it will provide for Hemgenix.
The drug has yet to go on sale, but new CSL Limited CEO Paul McKenzie hopes to launch it in the US "very soon."
"We have a few doctors in the US who would write prescriptions, but of course there is a process that needs to go through between payers and procedurally to be ready to give someone a drug," McKenzie said.