The article has been automatically translated into English by Google Translate from Russian and has not been edited.
Переклад цього матеріалу українською мовою з російської було автоматично здійснено сервісом Google Translate, без подальшого редагування тексту.
Bu məqalə Google Translate servisi vasitəsi ilə avtomatik olaraq rus dilindən azərbaycan dilinə tərcümə olunmuşdur. Bundan sonra mətn redaktə edilməmişdir.
Excellent coffee and friendly people: 5 reasons why Albania is so much better than Greece
'05.06.2023'
Olga Derkach
Subscribe to ForumDaily NewYork on Google News
Traveler Kristen Scalfano visited Albania and Greece. In her opinion, Albania noticeably wins against the backdrop of the more popular Greece. What is so special about this country, she told the publication Travel Off Path.
Next - from the first person.
It was a clear, sunny Saturday morning last September. I was lounging on a picturesque beach in Chalkidiki, Greece, looking at the turquoise waters with lemonade in my hand… but wishing I could go back to Albania instead.
Like many Americans, I have long cherished Mamma Mia-style fantasies of a young woman's lonely adventure on the pristine coast of Greece. While I didn't expect crowds of extras to pop out of windows singing ABBA songs, I expected a lot more than I got.
I was prepared for the hillsides to be teeming with cinematic white houses adorned with blue shutters. I was ready for some of the best beaches in the world, fresh seafood and a relaxing holiday.
Instead, I got disappointed with overpriced, overdeveloped, overcrowded, and oversaturated with influencers.
On the subject: When is the best time to book a cruise: life hacks for budget travelers
Of course, the trip wasn't all that bad. I met wonderful people and learned a lot about Greek history and culture.
In the end, two weeks of wandering around Greece led to a shortening of the trip. I found myself sweaty, packed on a ferry with fellow red-faced tourists, leaving Skopelos with a ticket in my pocket that cost more than a room in a luxury sea-view hotel in Saranda, deeply regretting that I hadn't stayed in Albania.
While I was tempted to blame this on my admittedly romanticized expectations, it honestly wasn't a real issue.
The problem was that Greece simply could not keep up with Albania.
Here are five reasons why my trip to Albania was so much better than my trip to Greece.
Pristine beaches
The crystal clear waters of the Greek islands simply didn't live up to the hype, when the price of a sun lounger exceeded $100, and I could not walk a meter without bumping into another American tourist.
What Albanian beaches lack in fame, they make up for in untouched beauty.
Of course, the peak summer season from June to September brings more locals and tourists to the beaches, but you'll still be hard-pressed to find a truly crowded beach.
Travelers who prefer an undeveloped beach paradise will find it easy to go astray in Albania. While Greece has very few secrets left, Albania's coastline is still a playground of paradise just waiting to be explored.
Most popular beaches:
Durres - Preferred due to 30 minutes drive from Tirana and ferry connections to Italy.
Dhermi is home to countless music festivals.
Vlore is a city famous for its palm avenues and refreshing pebble beaches.
Himare is great for backpackers, adventurers and families.
Saranda offers something for all travelers aspiring digital nomads and serves as a ferry hotspot to Corfu.
Ksamil - Known for its white sandy beaches and affordable luxury, it's great for a romantic getaway or meeting up with friends.
Travelers looking to get away from undeveloped beaches and minimal company can head to some of my favorite hidden gems: Karpen, Llamani, Drymadhe, Bunechi, Jeep, Spille and Borsh.
More friendly locals
I don't mean to offend the Greeks, but Albanian hospitality is unbeatable.
I was offered free safe trips between cities, meals at my grandmother's houses, places to stay overnight, tours of locals' hometowns, and much more. I felt safe every waking minute during my 10 months in Albania, which I can't say for sure about Greece.
Some of this is likely due to Greek locals growing tired of decades of over-tourism and endless waves of (probably annoying) visitors. While I fully understand the sentiment, I just didn't feel as good here as I did in Albania.
Superior coffee culture
I heard all about briki, traditional Ottoman-style Greek coffee, before I traveled. Unfortunately, I found myself preferring its relatives, Turkish and Bosnian coffee.
In any case, most of the coffees offered during my trip to Greece were actually frappe style.
I know what you're thinking, but this is not a Starbucks frappuccino.
Frappés are made from instant coffee shaken in cold water with ice, milk and lots of sugar. The grainy texture was not exactly pleasant, and the low quality instant coffee reminded me of late-night college nights rather than an idyllic vacation.
The only decent cup of coffee I enjoyed in Greece was from an Australian cafe in Thessaloniki and there was nothing Greek about it.
On the other hand, Albanian coffee culture suited me perfectly. In my 10 months in this Balkan country, from the coffeeshops of Tirana to the tiny roadside cafes of the Albanian Riviera, I never drank bad coffee.
You can get high-quality espresso literally anywhere in this country. I swear, some kind of magical coffee spell has been cast inside the borders of Albania.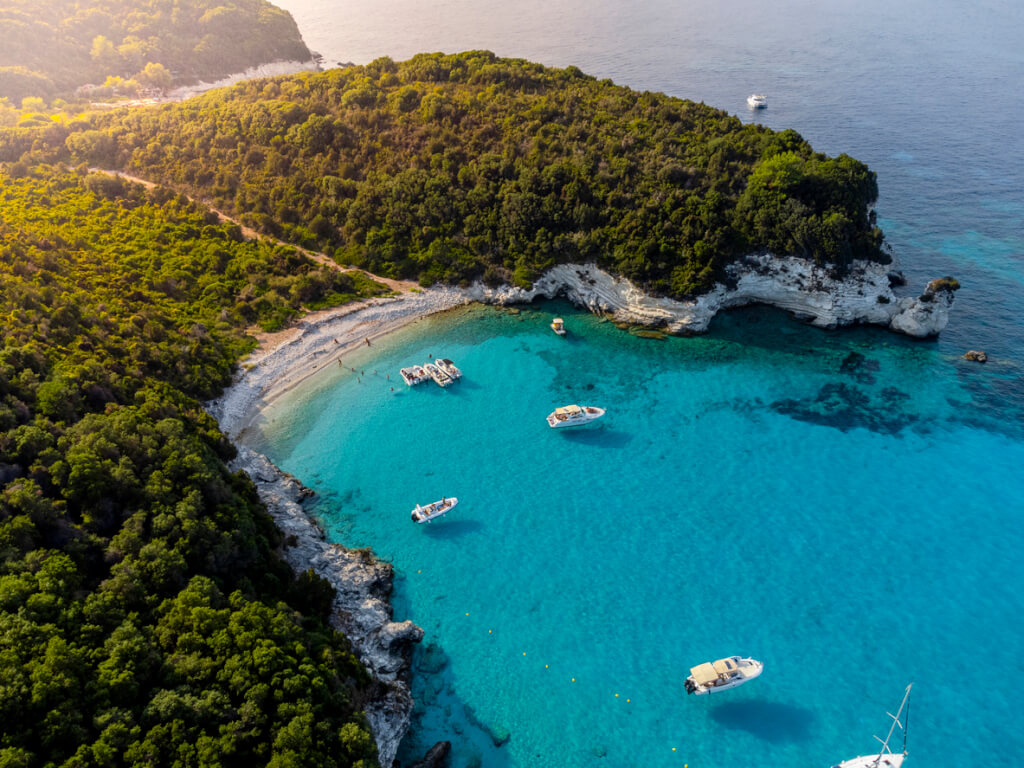 More affordable luxury
Remember Mamma Mia's "Money Money Money"? I found myself humming to it as I strolled along the sun-bleached Greek cobblestones after giving up more in one simple meal than I had in an entire weekend on the Albanian coast.
A simple coffee and pastry in the Sporades cost me twice as much as a full plate of breakfast on the beach in Himare (Albania). The price difference widened during the day. For dinner, I paid 250% more for the same grilled fish dish and a glass of wine in the same casual restaurant.
Albania's advantage extends to accommodation and transportation. Here is a breakdown of my costs in Albania and Greece:
Hostels - $9-11/night in Albania, $28-35/night in Greece.
Apartment - $25 per night in Albania, $55 per night in Greece.
A room in a 4-star hotel with a sea view is $53 per night in Albania, $160 per night in Greece.
5-star Sea View Resort Suite - $100 per night in Albania, comparable options cost $350 in Greece, which I did not charge.

Because the Greek islands and coastal cities are much more spread out than the Albanian Riviera, a three-stop trip to Greece can also easily cost you several hundred dollars more in transportation than a double-stop Albanian adventure.
Crowds of tourists
We all know the iconic Instagram shots of Mykonos and Santorini. But have you seen the reality behind them?
It's a never-ending serpentine line of monochrome white holiday suits, broken up with a few bold, colorful ensembles. As the golden hour fades away, the increasingly hungry and irritable pseudo-influencers are slowly losing interest.
And don't even get me started trying to get seats in crowded Greek restaurants and beach clubs as a solo traveler in crowded places reserved for couples. A nightmare.
Sure, Albania is experiencing a boom in popularity, but most of its beaches are still pristine and its amazing UNESCO World Heritage Sites don't draw a lot of people. Even the most popular holiday destinations in this Balkan gem are affordable and not overly developed yet, making it an obvious choice for your next European beach holiday.