The article has been automatically translated into English by Google Translate from Russian and has not been edited.
Переклад цього матеріалу українською мовою з російської було автоматично здійснено сервісом Google Translate, без подальшого редагування тексту.
Bu məqalə Google Translate servisi vasitəsi ilə avtomatik olaraq rus dilindən azərbaycan dilinə tərcümə olunmuşdur. Bundan sonra mətn redaktə edilməmişdir.
A guide to the five boroughs: which area of ​​​​New York to choose for life
'24.10.2022'
Nadezhda Verbitskaya
Subscribe to ForumDaily NewYork on Google News
Are you preparing to move to New York or are you looking for a more comfortable area to live in the city? Remember, New York is not just a city, but a huge metropolis, each borough of which has its own rhythm, opportunities and prices. Guide to the five boroughs of New York compiled by the publication PODS Blog.
Manhattan
When most people think of New York - skyscrapers, museums, yellow cabs, Central Park - they think of Manhattan. Manhattan is a narrow island in the center of New York. Despite the fact that Manhattan is geographically very small, there are dozens of small areas of Manhattan that offer different cost of living and their composition of residents. Bustling, crowded and teeming with new experiences to see and experience around every corner! Manhattan is ideal for those looking for a fast paced lifestyle and access to the amenities of a big city.
Notable neighborhoods in Manhattan
Upper East Side: The Upper East Side boasts true New York City treasures such as the Metropolitan Museum of Art and the Guggenheim Museum, as well as Madison and 5th Avenue. The United Nations is also located here. There are many private schools here, making it one of the best neighborhoods for families in New York.
Greenwich Village: If you're looking for a classic New York vibe, Greenwich Village is the perfect area. It is home to New York University and Washington Square Park. As well as many great restaurants to visit. Greenwich Village is also within minutes of both the city center and the Downtown financial district.
Upper West Side: Bordered by Central Park West, this area is home to some of the most beautiful real estate in the city. Overlooking Central Park to the east and Riverside Park to the west, the UWS Hotel has the charm of pre-war architecture.
On the subject: What services need to be notified about the change of address when moving
Cost of living in Manhattan
The cost of living in Manhattan is high compared to the rest of the city (and even the country as a whole). However, rent varies greatly depending on the area you live in, with the average rent for a 1-bedroom apartment ranging from $2800 a month (Washington Heights) to over $7000 (Soho).
Life in Manhattan
Move to Manhattan if you're looking for classic New York living. Convenient for those who work on the island. Plus, there's never a shortage of entertainment in Manhattan, no matter the time of day. Well-connected and densely populated, Manhattan is a city that lives at its own pace. Due to this advantageous location and convenience, there are usually higher prices and less living space.
Brooklyn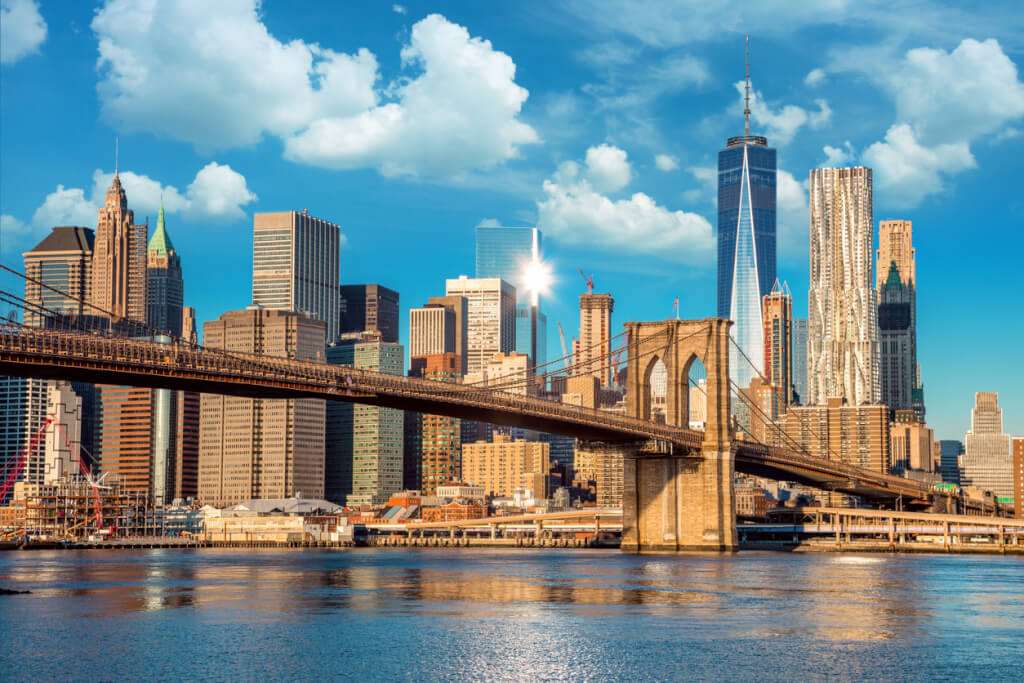 The stereotype of Brooklyn is rich families and hipsters too cool for the Manhattan mainstream. Brooklyn carries much of the cultural influence and weight of Manhattan, with a more relaxed vibe. It is home to beautiful parks, amazing restaurants, and an abundance of culture. Brooklyn's neighborhoods offer a little more quiet living than cramped Manhattan.
Notable neighborhoods in Brooklyn
Williamsburg: Once a mecca for artists and young creatives, Williamsburg has become a vibrant neighborhood where sophistication has given way to fashion. Williamsburg has a thriving arts and music culture, as well as a wealth of handicrafts and food.
Park Slope and Prospect Heights: Located west and north of beautiful Prospect Park, these two neighborhoods are home to many young wealthy families as well as professionals. Here you will find beautiful green spaces and attractions such as Union Hall and Barclays Center.
Cost of living in Brooklyn
While the cost of living in Brooklyn may be higher than similarly sized neighborhoods across the country, there is a price difference here from Manhattan. Expect to pay between $2100 and $3000 per month for a 1-bedroom apartment. At the same time, the price will rise to $400 in the most expensive area (Dumbo). Living in Brooklyn also often means a bigger apartment than those offered in Manhattan.
Life in Brooklyn
Move to Brooklyn if you're looking for access to the conveniences of a big city, with more space and a laid-back vibe. Your commute to work may take a little longer. But what you get is green spaces, a unique culture, and great coffee and beer.
Bronx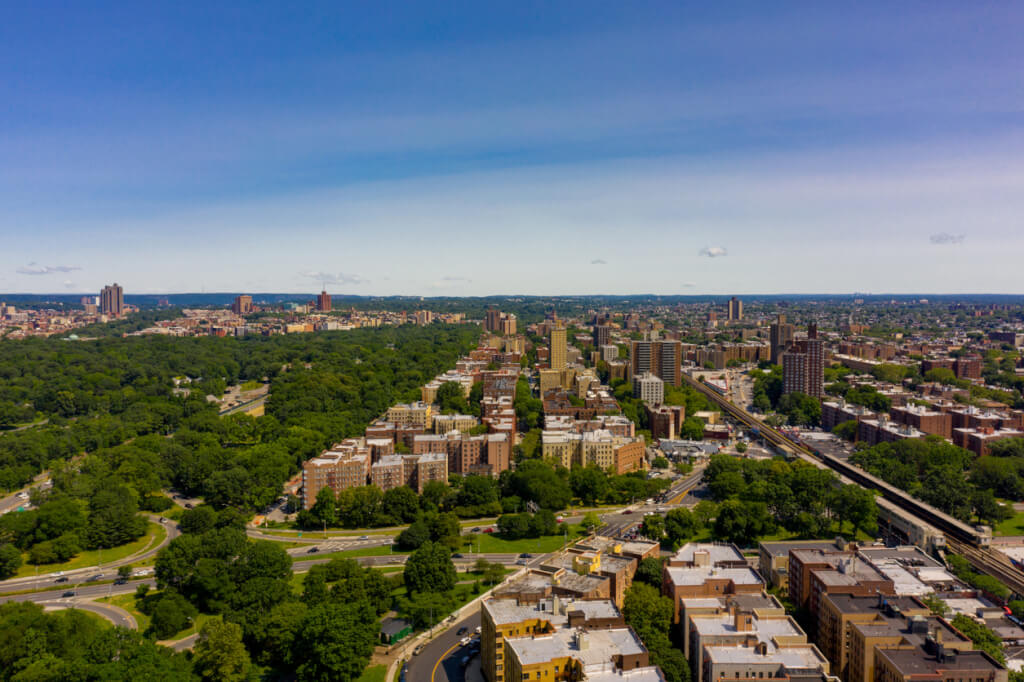 The Bronx is home to the New York Yankees, the cradle of hip-hop and boasts the largest park in the city. Geographically, this area is located north of Manhattan, above the Harlem River. The Bronx has many attractions that make it a unique place to live. These include Pelham Bay Park, the Bronx Zoo, Yankee Stadium, and phenomenal cultural experiences. What is the downside? While the subway is designed to take people from the Bronx to Manhattan and back, transportation within the area itself is inconvenient and underdeveloped.
Notable neighborhoods in the Bronx
Fordham: Consisting of several blocks surrounding Fordham University, this neighborhood has attractions such as Edgar Allan Poe's Cottage and the New York Botanical Gardens. Due to its proximity to Fordham University and lower cost of living, this is a popular area for students moving to New York.
Riverdale: One of the most fashionable neighborhoods in the Bronx, Riverdale is full of tree-lined streets and homes that seem more suburban in nature.
South Bronx: The South Bronx is home to the Grand Concourse shopping district, with wide streets where you'll find Yankee Stadium and the Bronx Documentary Film Center. And you can even take a tour of the key birthplaces of hip-hop.
Cost of living in the Bronx
Rents in the Bronx are on average lower than in other areas such as Manhattan or Brooklyn. About $2100 per month instead of $4000 for a typical 1 bedroom apartment. If having affordable rent is more important to you than being in the heart of the city, the Bronx might be right for you.
Life in the Bronx
Move to the Bronx if you're looking for access to Manhattan while enjoying lower rents. Or if you're just a big fan of the Yankees. Also, if you're a park lover, you're in luck. There are many public parks here. However, the nightlife and the professional labor market are not very developed here.
Queens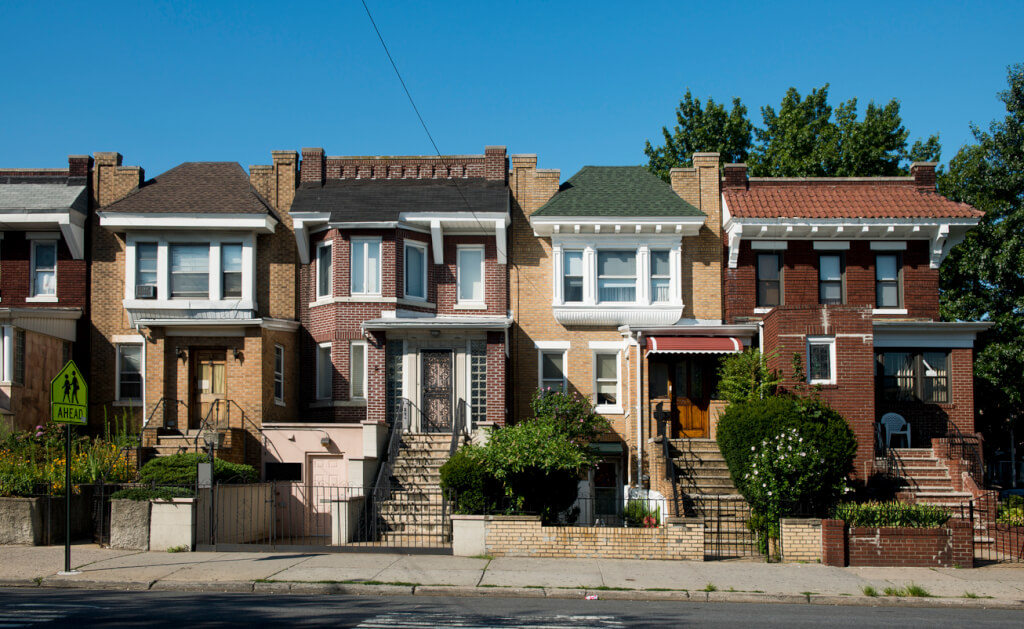 Queens is New York's easternmost borough and geographically the largest of the five. With a laid-back suburban vibe, the neighborhoods of Queens are unassuming yet close to the big-city perks you love. This is one of the most diverse areas. And here you can enjoy incredible ethnic cuisine and amazing music.
Notable neighborhoods in Queens
Astoria: Located just a short train ride from Midtown Manhattan, Astoria has become popular with young professionals looking to find lower rents without sacrificing quick access to Manhattan. Living in Astoria gives you all the benefits of New York City's finest suburbs without the long commute!
Sunnyside: This area in western Queens is within walking distance of the Empire State Building, with great pubs and shops. You'll find a wider selection of housing options such as apartments, houses, and condominiums, giving the area a more suburban vibe.
Cost of living in Queens
The cost of living in Queens is much lower than in other areas of New York. Rents range from $1100 for a studio to $3000 per month for a 2-bedroom apartment. And the average is about $2100 for a 1 bedroom apartment. The prices and feel here are much more like living in the suburbs than living in New York. If you have a family, this might be the perfect option for you. For less cost, you'll have green spaces close to home and plenty of activities for the kids. If you are a young single person looking for nightlife and entertainment, you can choose Brooklyn or Manhattan, where you will have to pay a little more for access to these amenities.
Life in Queens
Have you ever wondered what it's like to live in Queens? If you're looking for a suburban lifestyle where you can potentially own a home rather than rent an apartment, moving to Queens is a great option. The median home price is now around $650. It's also a great place to live if you're looking for cultural diversity and the balance of big city advantages with suburban luxury.
Staten island
The southernmost borough of New York, connected to Manhattan by ferry. Sometimes referred to as the forgotten area, Staten Island offers a suburban, family-oriented lifestyle. There is a magnificent zoo, botanical gardens and backyards here with swimming pools.
Notable areas of Staten Island
Great Kills: The area is home to many families who are attracted by excellent schools, access to the park and the beach. As well as trails for running or cycling. While the area may not be the best option if you commute to Manhattan, the Great Kills has a lot to offer in terms of lifestyle. Especially if you are looking for a family holiday destination.
Saint George: Located on the northeast tip of Staten Island, St. George has easy ferry access to Manhattan. This makes it a great option for those who need to commute there to work. St. George's is a great area to explore the business side of the city and a variety of accommodation options (including charming Victorian ones).
Cost of living in Staten Island
Living on Staten Island is very affordable, with average rent hovering around $1400 per month. Buying a home in this area is more feasible than in other areas of New York. Here, the average cost of housing is about $530.
Life on Staten Island
Move to Staten Island if you'd rather spend money on your home than on amenities. Separated by water from the more densely populated areas of New York, Staten Island is a great choice for families. And for those looking for parks, entertainment and the benefits of living in the suburbs.