The article has been automatically translated into English by Google Translate from Russian and has not been edited.
Переклад цього матеріалу українською мовою з російської було автоматично здійснено сервісом Google Translate, без подальшого редагування тексту.
Bu məqalə Google Translate servisi vasitəsi ilə avtomatik olaraq rus dilindən azərbaycan dilinə tərcümə olunmuşdur. Bundan sonra mətn redaktə edilməmişdir.
Fifteen places to go from New York City for the weekend
'23.06.2023'
Nadezhda Verbitskaya
Subscribe to ForumDaily NewYork on Google News
New York is the greatest city in the world. But for those of us who live here, this is a metropolis that sometimes you want to escape from. Noise, din, crowds of people and constant movement make it tiring, so New Yorkers need to periodically leave it, writes Trip savvy.
Luckily, the Big Apple enjoys a privileged position among forests, mountains, beaches, farms and charming small towns. Here are a few short trip ideas from New York City that will satisfy the desires of nature, art, culture and food lovers alike.
1. Storm King Art Center
Just an hour north of Manhattan is located Storm King Art Center with its large-scale contemporary sculptures. It is an ideal place for a day trip, during which visitors can spend hours walking among the fine art. Sculptures by artists such as Andy Goldsworthy, Louise Bourgeois, Sol LeWitt, and Alexander Calder have settled among hills, lush forests, babbling streams and verdant meadows. Some works are even installed directly into the landscape. After an aesthetic delight, head to the nearby town of Cornwall and dine on the main street in farmhouse market or Prima Pizza.
2 Bear Mountain State Park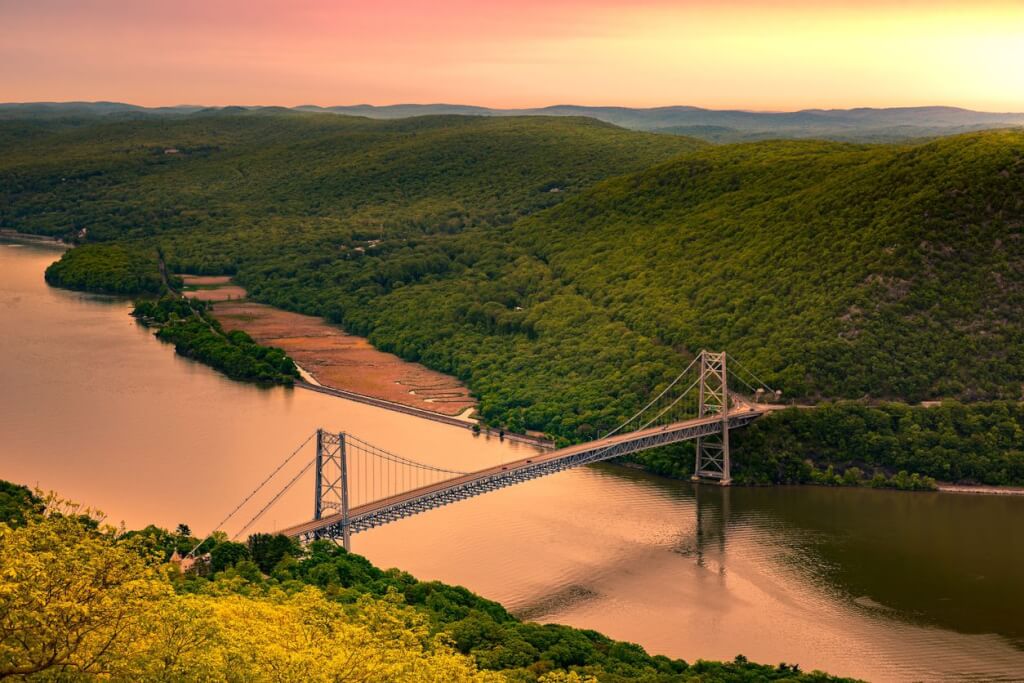 Bear Mountain Park full of entertainment. It's only an hour from Manhattan, so it's the perfect place for a day trip alone, with friends, or with family. Most people know that the park has many kilometers of hiking trails.
But if you do not like hiking or want to try something new, you will be pleased with other interesting locations. Visit charming and educational Trailside Museums and Zoo, walk across the scenic Bear Mountain Bridge, ride a carousel, rent a boat on Lake Hessian, swim in the pool (summer) or go ice skating (winter). When you want to refresh yourself, arrange a brunch or lunch in a restaurant "1915or grab a bite to eat at Hiker's Cafe located at the Bear Mountain Inn.
On the subject: Through the mountains and rivers of the Adirondacks: a train ride in New York that you will never forget
3. Beacon (New York State)
There is a Beacon stop on the Hudson Line of MetroNorth, and it's the perfect option for a day trip. After getting off the train, cross the street from the station to the boardwalk and admire the mighty Hudson River from Pete and Toshi Seeger Riverfront Park or Long Dock Park.
Then go to Dia: Beacon is a well-known museum of contemporary art that specializes in large-scale installations. It features the work of artists such as Richard Serra, Robert Smithson, Dan Flavin and Agnes Martin.
For lunch you can visit the cafe Beacon Falls Cafe, Beacon Pantry и Cafe Amarcord. After you recharge your batteries, head up Mount Beacon (if you don't have a car, there is a shuttle bus from the train station) for a walk with great views. If you're not ready to head back to the city yet, enjoy a cocktail at wonder bar and watch an indie movie at the refurbished Beacon Theater, now called Story Screen.
4. Asbury Park (New Jersey)
Just an hour from New York City, Asbury Park has a lively waterfront, great restaurants, a nice beach and lots of music. Must visit iconic restaurant stone pony, where Bruce Springsteen started his career, as well as other institutions: Wonder Bar, Saint , historical Convention Hall and Paramount Theater on the iconic embankment. These are great places to enjoy live music after a day out in the sun. Have lunch at Talula's or Pop's Garage and have a beer at Asbury Festhalle & Biergarten.
5. Rhinebeck (NY)
This is one of the best places in the region to spend a day shopping for antiques and independent designers. In addition, the city is about 160 miles north of Times Square and you can easily get there by car or Amtrak.
We advise you to take a walk along the streets of Market and Montgomery - this is the center of the city. Check out clothing and accessories stores Darryl's и Haldorato buy stylish things and also in Pegasus Footwear и Rhinebeck Department Store, where brands of clothing for outdoor activities are presented.
Hammertown is an award-winning home goods store, and Land of oz - the wonderful world of toys. Book lovers will love Oblong Books & Music, Rhinebeck Antique Emporium и Beekman Arms Antique Market will definitely appeal to those who like to look for ancient treasures.
Refresh at Bread Alone, your local favorite bakery and cafe, make an appointment at the Chinese Healing Arts Center or Breathe Studio: Barre & Pilates. For a truly relaxing experience, visit the Mirbeau Inn & Spa, a full-service spa with saunas and hot tubs. Restaurants in Reinbek are excellent too: Amsterdam, Bia, Terrapin Restaurant or Willow by Charlie Palmer All of these are great options.
6. Philadelphia (Pennsylvania)
Why leave one big city for another, you ask? But a trip to Philadelphia is an exciting excursion just an hour and a half from New York. Those who care about history will be obsessed with sights such as the Liberty Bell, Independence Hall (where the Declaration of Independence and the Constitution were signed), Benjamin Franklin Museum, Betsy Ross House, Museum of the American Revolution and Mother Church Bethel AME, the mother church of the African American denomination, built on the oldest piece of land continuously owned by African Americans.
Art lovers will be happy to visit museums such as the Barnes Foundation, Philadelphia Museum of Art и Rodin Museum. And such unique institutions Mutter Museum of the College of Physicians of Philadelphia, Mummers Museum, and the Please Touch Museum ensure there is something for everyone to enjoy.
Gourmets will feel right at home too: be sure to visit the Reading Terminal Market, which has been in existence since 1892. Here you can try DiNic's Grilled Pork Sandwich, Beiler's Fresh Donuts, Sang Kee Peking Sausages, Hershel's Pastrami Sandwich and Bassetts Ice Cream. If you don't eat meat, don't worry: Vedge is one of the best restaurants in town, and it just so happens to be vegan. Other restaurants worth checking out include Zahav, K'Far Café, Federal Donuts, Baology, Rangoon and Vernick Food & Drink. If after all this running around you want peace and quiet, then the serene Japanese garden Shofuso will help you with this.
7. Fire Island (New York)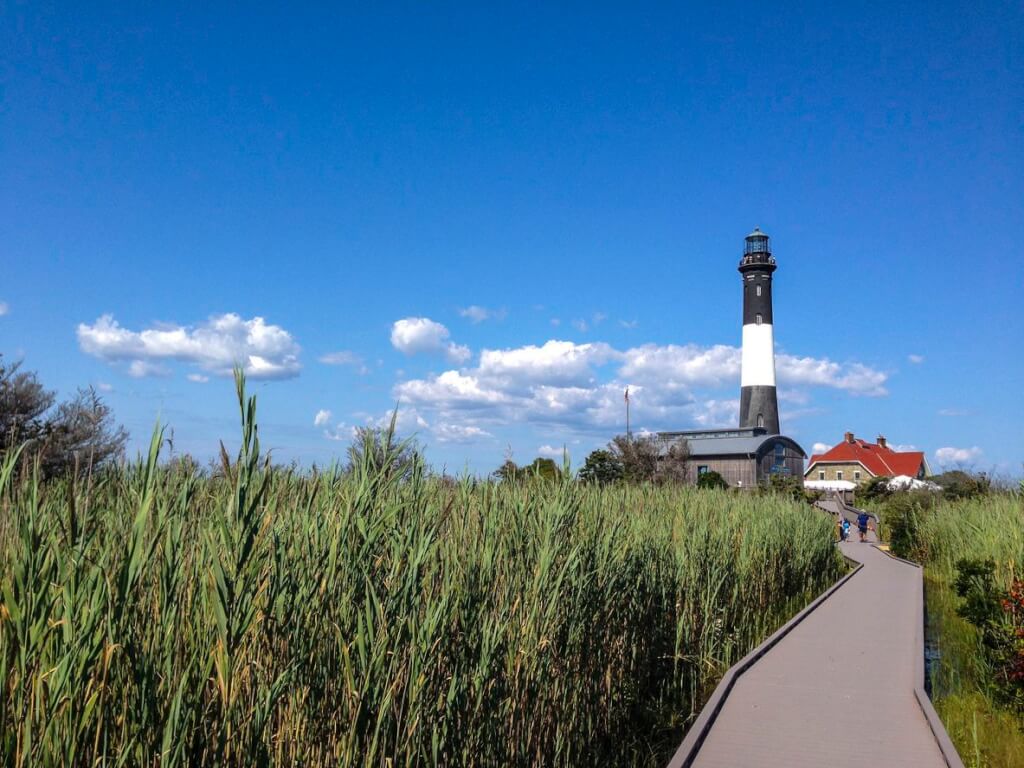 Although New York has many beaches located in close proximity to the city, Fire Island is perceived as a real retreat. Here you can ride a ferry, while cars are not allowed to drive around the island (take a bike with you if you want to move around). Located just off the south coast of Long Island, about an hour and a half from Brooklyn, this barrier beach island is home to Robert Moses State Park on the west side and Smith Point County Park - on the east. Relax on one of the beaches such as Kismet, Salter, Ocean Beach or Cherry Grove, stroll along the boardwalk, play golf or visit the Fire Island Lighthouse.
8. Cold Spring (New York)
About an hour from the city, Cold Spring is a favorite day trip out of the city due to its train accessibility, great hiking and kayaking, and charming main street. Hikers climb the Breakneck Ridge for stunning views of the Hudson Valley. And while the name shouldn't scare you, this hike does involve some steep climbing - so be prepared.
For the rest of your time, wander down Main Street, check out Instagram-worthy stores like Poor George, old souls, Cold Spring General Store и Cold Spring Apothecary. If you prefer water locations, rent a kayak or canoe and head to the Hudson River to visit the historic and impressive Bannerman's castlelocated on its own island. When you're hungry, stop by Hudson Hill's or Cold Spring Depotto taste classic dishes.
9. New Canaan (Connecticut)
New Canaan is known as the birthplace of an architectural masterpiece Philip Johnson's Glass House. But it's also a worthy place to walk on its own - less than an hour from Manhattan by car or train. Luckily, New Canaan has a few other attractions, making a full day tour perfect. It's beautifully landscaped waveni park with a mansion, and galleries in silvermane arts center, and a non-profit center for nature and the arts Grace Farms with its stunning undulating building designed by Japanese architecture firm SANAA, as well as its tea pavilion, amphitheater and immaculate grounds. Downtown New Canaanaan has some charming shops. well worth a look. For example, Elm Street Books and jewelry store Wave, and caffeine can be drunk in Zumbach's Gourmet Coffeewhile in a restaurant Rosie - have lunch and sole - have dinner.
10. Tarrytown and Sleepy Hollow (New York)
These twin cities of Westchester are only 40 kilometers from New York City, perfect for a day trip. If you don't have a car, MetroNorth is at your service. In Tarrytown don't forget to visit Sunnyside - the restored home of Washington Irving, author of The Legend of Sleepy Hollow, and lyndhurst mansionbuilt in 1838. Then you can take the train one more stop to Sleepy Hollow Philips Manor Station and visit the famous Sleepy Hollow Cemetery, where the remains of Irving, as well as Andrew Carnegie, Walter Chrysler, Elizabeth Arden and Leona Helmsley are buried. The 1838 Sleepy Hollow Lighthouse is well worth a stop, and philipsburg estate there is an opportunity to see the experience of African slaves at the 1750 mill. Check the schedule and check out TaSH Farmers Market, if it's open, or book a table at Chef Dale Talde's Goosefeather Restaurant, located in an 1840s mansion. No wonder Sleepy Hollow is a popular place to visit on Halloween. So if you can get to the famous event Great jack o'lantern blaze, which runs from early September until Halloween night, spooky fun awaits. And watch out for the Headless Horseman - he usually appears out of nowhere.
11. Princeton (NJ)
Home to the famous university, Princeton is an idyllic corner of New Jersey just over an hour from New York City. Walking around the magnificent campus of Princeton University is a worthwhile activity, especially for lovers of Gothic and Georgian architecture. You can sign up on a guided tour or just explore everything on your own. Set aside a full day for this while exploring the Palmer Square area, home to many chain and independent restaurants and shops such as the Home Goods Store. Homestead and a long-time favorite of music lovers Princeton Record Exchange. If the school is in session, pick up students at PJ's Pancake House or Hoagie Heaven for a regular bite to eat, or try wood-fired pizza at Nomad. Leave space for ice cream Bent Spoon. In autumn, stop by Terhune Orchards for apple picking.
12. Kingston (New York)
Kingston, just north of the Catskills, is a great day trip out of town. As the first capital of the state of New York, Kingston has experienced decline over the years, but in the last decade it has begun a kind of renaissance. The result is a picturesque waterfront, historic districts filled with charming shops and small museums, and a booming restaurant scene. It is larger than many cities in Catskill and the Hudson Valley, so you can spend a whole day here and even more.
If you have young children, ride the historic trolley along the waterfront and visit Hudson River Maritime Museum. Shoppers will love boutiques such as Clove & Creek, Oak 42, Anderst, Milne и blue cashew, and gourmets should book a table in a restaurant Kinsley or Lis Bar Zach Pelacchio. The city is close to tourist favorites like Millbrook Mountain, Minnewaska State Park, and Caatherskill Falls.
13. North Fork (New York)
There are several wine regions in New York, and the North Fork on Long Island is a great option for a day tour of wineries, including a 35-year-old family Pindar Vineyards, 38 years old Bedell Cellars и McCall Wineswhich debuted in 2007. Kontokosta Winery, Macari Vineyards and Lenz Winery are also worthy of your attention.
If you don't have a dedicated driver, tours like North Fork Wine Tourswill take you and your team from vineyard to vineyard. Stop for a snack at Little Creek Oyster Farm & Market, Cliff's Elbow Room or North Fork Table & Inn and stroll along the beach between tastings. In summer, make time to walk through the lavender fields Lavender by the Bay.
14. Mountain Creek (NJ)
Located in the village of Vernon, Mountain creek - the closest ski resort to New York. With 1 feet of vertical lift, 040 acres of four-peak skiing, and eight lifts to ferry skiers up the mountain, Mountain Creek will easily keep any skier busy for the day. While it doesn't always get a lot of natural snow, the resort itself prepares snow throughout the season, providing good conditions. Don't like skiing? There are also snow tubing and fatbiking. Do not forget about the summer: in warm weather, the mountain turns into a bicycle park, there are golf and rope courses, zip-lining and mountain slides, and nearby is aquapark.
15. New Hope (PA)
Known as an enclave of hippies and artists, the eclectic town of New Hope, along the Delaware River in Bucks County, has a fun Main Street lined with shops like Soap Opera Company, Farley's Bookshop и Mystickal Times. Or explore Bucks County wine trail wine tasting in the nearby Buckingham Valley and Wycombe Valley. Do you prefer beer? Check out the brewery Triumph Brewing Company in the city. After tasting alcohol, have a snack in the historical Salt House, vegan Sprig&Vine or new Odette's at the River House, and finally, visit the performance in the cult Bucks County Playhouse.