The article has been automatically translated into English by Google Translate from Russian and has not been edited.
Переклад цього матеріалу українською мовою з російської було автоматично здійснено сервісом Google Translate, без подальшого редагування тексту.
Bu məqalə Google Translate servisi vasitəsi ilə avtomatik olaraq rus dilindən azərbaycan dilinə tərcümə olunmuşdur. Bundan sonra mətn redaktə edilməmişdir.
Ukrainians took to Times Square with their animals to oppose the destruction of the Kakhovka dam
Subscribe to ForumDaily NewYork on Google News
After undermining the Kakhovka dam Ukrainians in New York came out to protest. The place for rallies of the local Ukrainian community is unchanged - near the red steps in Times Square. Today, not only people, but also animals are protesting here.
Times Square on Wednesday evening - all in Ukrainian flags. People came to express their support to the residents of the cities and villages of Ukraine flooded as a result of the explosion of the Kakhovskaya hydroelectric power station.
"The common position of all Ukrainians around the world says that we are not tired, the world is not tired, and no one believes in the narratives that Russia is spreading around the world! They want to help Ukraine, they want to support Ukraine, we are together, we are united!" the speaker shouts into the loudspeaker.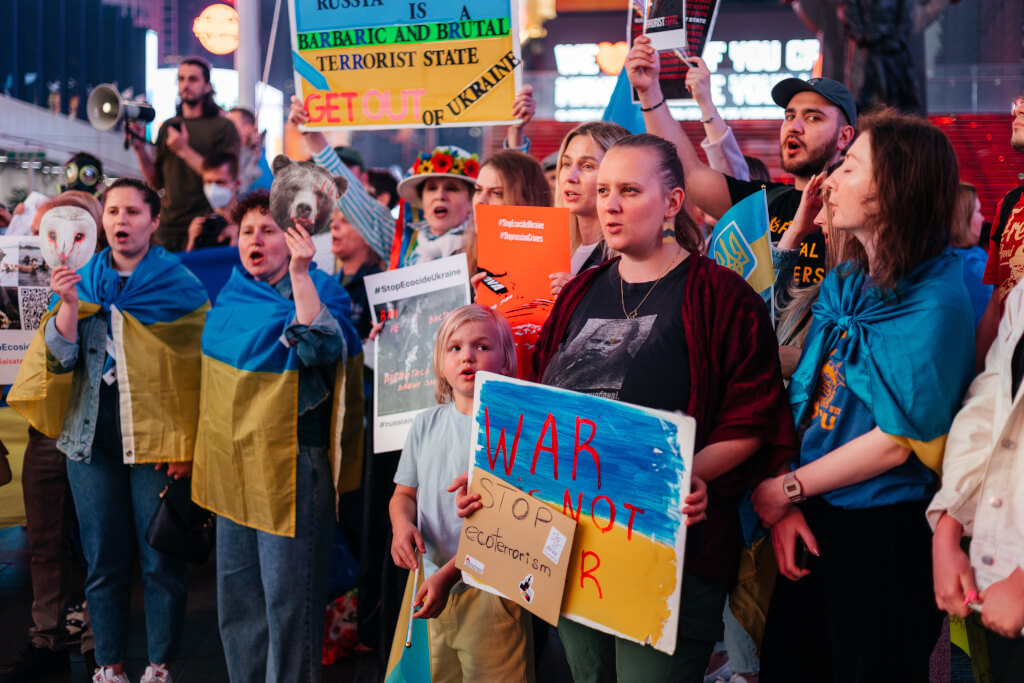 The rally today differs from others in that many participants brought their pets to the square. Among them is Natalia Lunik. She came to the US quite recently from Lviv. Today I came to Times Square with my daughter and fluffy Jerry. He says: the dog, although he lives in America, is actually a Ukrainian, and flew to the States with them. She says that the whole family cried at the sight of the images of drowning animals, and that's when she decided to take Jerry with her to the protest.
"We made a poster with our daughter, on which we wrote: "If my dog ​​was in Kakhovka today, she would die." Thus, we decided to express support to the people who are now in the Kherson region. Well, at the same time, to remind that people who are not in Ukraine now should not forget that there is a war going on and help even more", says Natalia.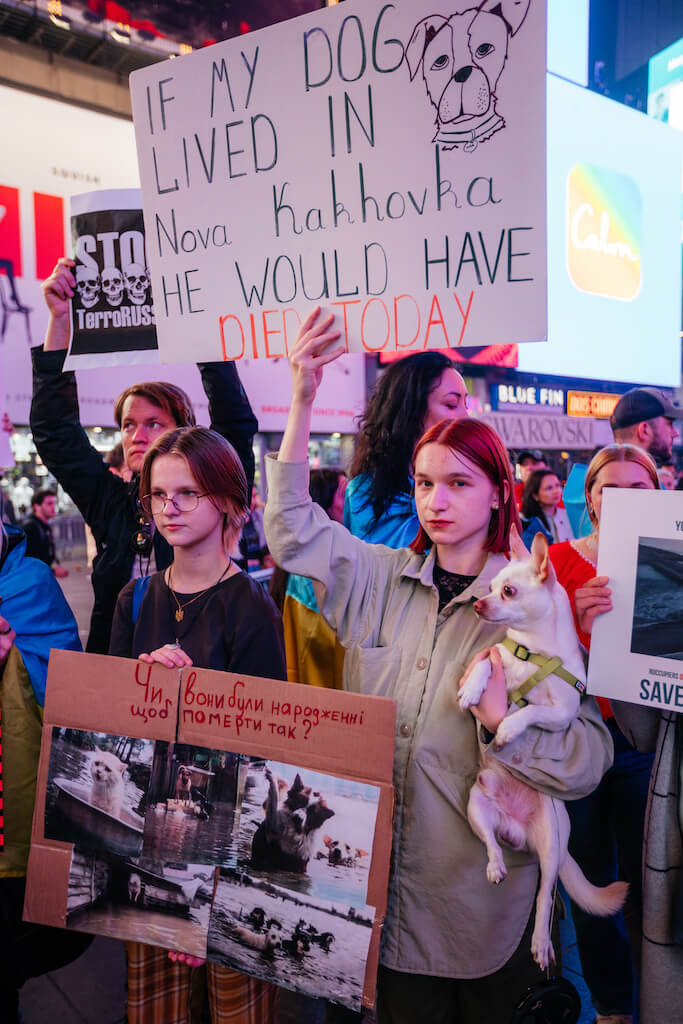 They also talk about support from the stage of the rally. They say that right now they are preparing a whole container of humanitarian aid to be sent to Ukraine. But, according to activists, the help of volunteers, although necessary, is not always sufficient. Even more important is to draw public attention to the war and the needs of Ukrainians.
"That's what we're all here for., - says Anna Stewart, - NWe really need help from the global community. We need assistants who will help us carry out the same large-scale military operation that the Russian president is currently conducting on the territory of Ukraine. So that we can balance what is happening on both banks of the Dnieper. We are here every week, but today it was especially important to come. Unfortunately, we have little hope for the UN – they are celebrating the day of the Russian language there today, so it's really hard to expect anything from them, but we still hope that our loud and clear calls will be heard."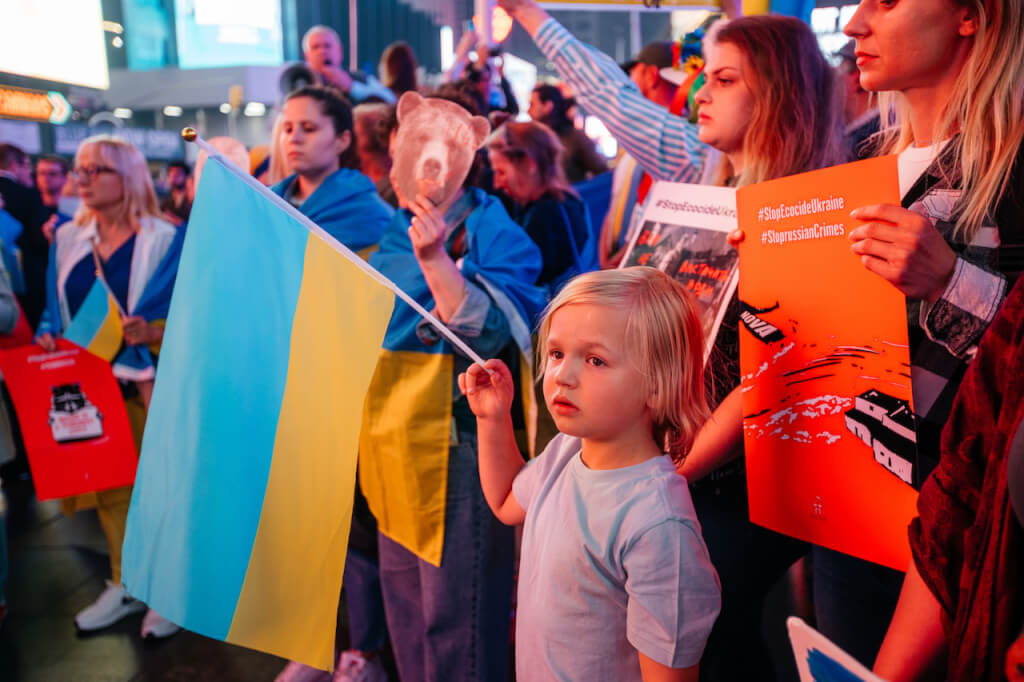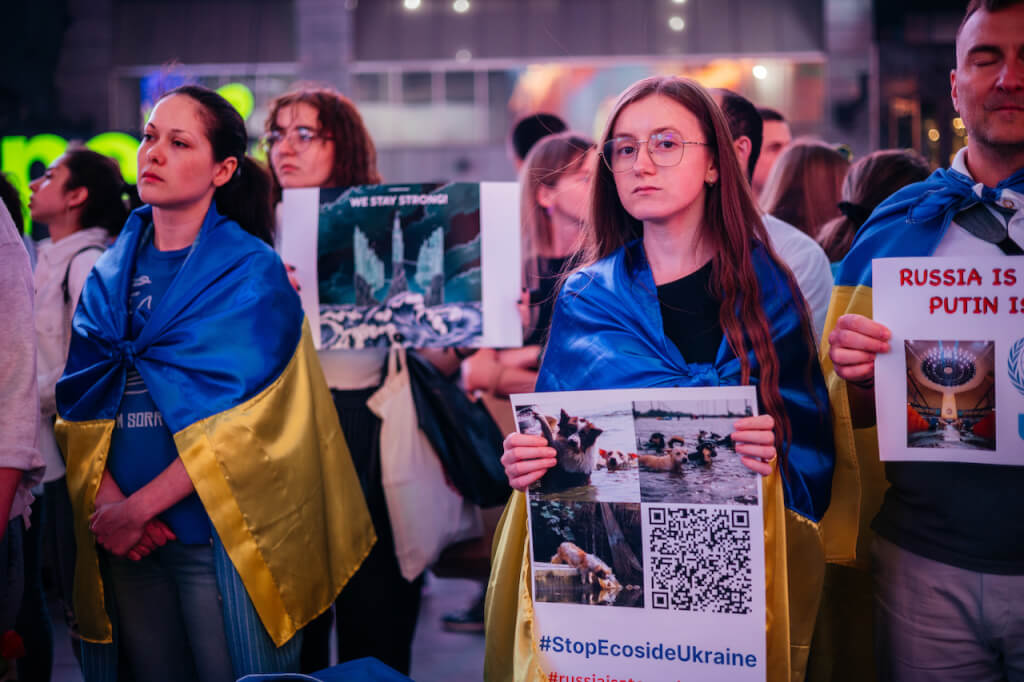 People insist that what happened at the Kakhovskaya HPP not only did not break their will, but also added to their confidence that they need to fight with a vengeance.
"Did that make us weaker? No! This only increased our rage and our unity and our faith in the Armed Forces of Ukraine! Glory to the Armed Forces! Kakhovka! We are with you!", - screaming gray-haired man in a loudspeaker. And the crowd loudly supports him, chanting "Kakhovka, we are with you!" and "Glory to Ukraine".