The article has been automatically translated into English by Google Translate from Russian and has not been edited.
Переклад цього матеріалу українською мовою з російської було автоматично здійснено сервісом Google Translate, без подальшого редагування тексту.
Bu məqalə Google Translate servisi vasitəsi ilə avtomatik olaraq rus dilindən azərbaycan dilinə tərcümə olunmuşdur. Bundan sonra mətn redaktə edilməmişdir.
Hurricane Lee is raging in the Atlantic: it could intensify to category 5 and hit New York
'07.09.2023'
Olga Derkach
Subscribe to ForumDaily NewYork on Google News
After a relatively slow start to the hurricane season in recent weeks, the tropics in the Atlantic Basin have suddenly picked up. While most of the hurricanes remained over the open ocean, Category 3 Hurricane Idalia, which hit Florida last week, was a stark reminder that we are in the middle of the season. And now New York is under threat, where Hurricane Lee is likely to reach. The edition told in more detail CBS News.
Late August to early October is usually the period of greatest tropical cyclone activity, with the peak occurring on September 10th. At the end of last week, five named storms were observed in the Atlantic. And now there's a new named storm that could pose a serious threat.
Tropical Storm Lee formed in the afternoon of September 5 and rapidly intensified into a hurricane by noon on September 6. Currently, Lee, a category two, is in the middle of the tropical Atlantic Ocean, with winds reaching 105 miles (168 km) per hour. With a well-defined eye and a perfectly symmetrical frame, Lee looks very large.
In the next few days, it will move to the ocean region, where the water temperature is very warm, and atmospheric conditions favor rapid and explosive development. This rapid development describes a process called rapid intensification. That is, there is an increase in the maximum sustained wind of a tropical cyclone by 34,5 mph (55,5 km) or more within 24 hours. Some of the most famous hurricanes in history have gone through this process, which is likely to affect Lee as well.
On the subject: Resisting the Elements: How New York Houses Resist Hurricanes
The National Hurricane Center predicts Lee will intensify into a Category 8 hurricane by the evening of September 5 with winds of 160 miles (257 km) per hour. Considering how hot sea surface temperatures are right now, it's safe to assume that Lee's maximum wind speeds could reach a minimum of 170 miles (273 km) per hour. This is more than enough to turn Li into a huge storm.
Lee forecast models
Forecast models continue to fluctuate with the storm's path. Initially, it was assumed that it would land on land in the mid-Atlantic region, then move along the coast towards New York and go to sea on September 15.
As of September 7, the trajectory is much closer to the east coast. Under the European ECMWF model, Lee will remain at sea and not land, but will come very close to the US mainland, which will cause heavy rain and winds in the far eastern part of Long Island, and then head to Nova Scotia.
According to the American GFS model, Lee will touch Cape Cod, after which he will head to the Canadian Maritimes. Either way is in unsettling proximity to New York City.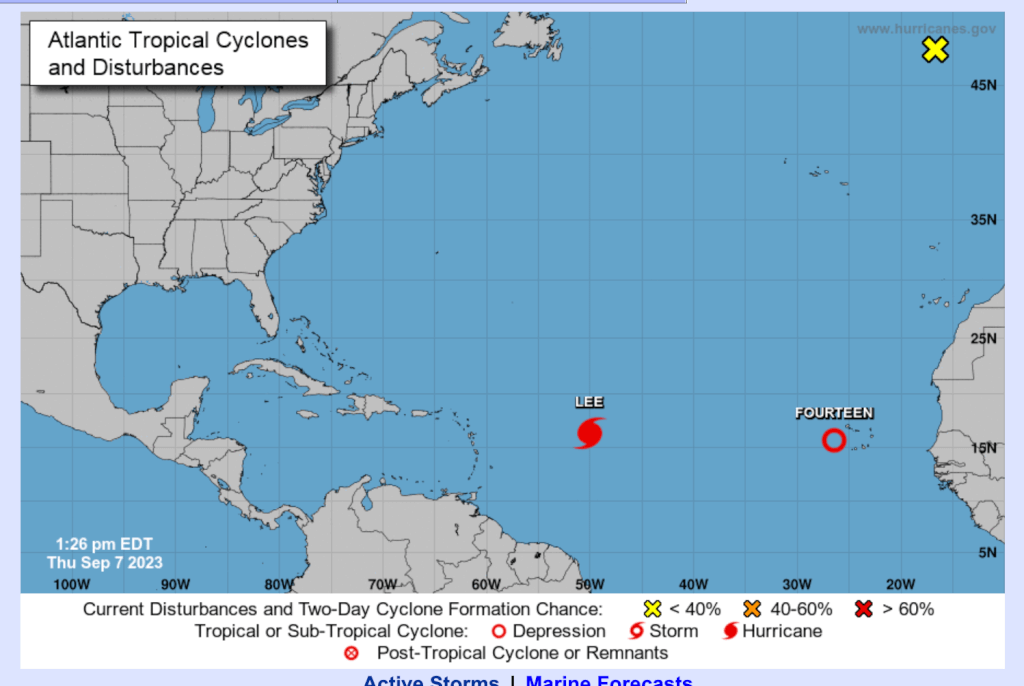 The presence of an upper level trough will determine the final path of Li. If the trough is located further to the east, then, as is usually the case, Lee will move into the Atlantic. If the trough is located further to the west, then Lee can be pulled directly to the coast, as was the case with Superstorm Sandy. The last scenario is not very typical, but it cannot be ruled out yet. The end of next week - September 16-17 - is the time frame for this possible event.
Lee's aftermath
Whether Li has a direct impact on land or not, the consequences will still be felt on the region's beaches. These effects will manifest themselves in the form of dangerous rip currents, strong surf and beach erosion. We've already seen this happen over the past week: Hurricane Franklin and Tropical Storms Idalia, Gert, José, and Katia moved far offshore at the same time. Since Lee is expected to increase in size after reaching northern latitudes, this means that the wind field will spread far from the center of circulation. Therefore, wind conditions can be felt even hundreds of kilometers from the center of the storm.
Another interesting fact. Hurricanes that have reached major hurricane status at some point in their life cycle often retain the energy they possessed at their peak even after their maximum sustained winds have decreased. Hurricane Katrina in 2005 and Hurricane Sandy in 2012 are examples of this.
Hurricane Katrina peaked as a Category 5 hurricane with winds of 175 miles (281 km) per hour, but made landfall as a Category 3 hurricane with winds of 125 miles (201 km) per hour. However, storm surge from Katrina was as high as 30 feet (9,1 m), more in line with a Category 5 hurricane.
The same could be said for Sandy, which peaked as a Category 3 with winds of 115 mph (185 km) but made landfall as a post-tropical cyclone with winds of 80 mph (128 km) per hour. Despite other factors, Sandy's devastating 14-foot (4,2 m) storm surge was more like a Category 4 storm.

This is because accumulated cyclone energy (ACE), which is used to measure the energy released in a tropical cyclone, takes time to dissipate after the storm becomes so severe. The higher the peak of the hurricane, the longer it takes for all energy to be lost. As for Lee, for those who experience the effects of this storm, the consequences may be more severe than expected from a smaller storm, as Lee is predicted to have a very high peak in intensity.
Sea surface temperatures in the Atlantic Basin have been well above average this year and have broken record levels in some areas. Despite the development of a climate model known as El Niño, which typically suppresses hurricane activity in the Atlantic Basin, the National Hurricane Center recently updated its forecast for the number of named storms this year.
The original forecast called for 17 named storms, already above the seasonal average of 14. Now the updated forecast is 21. Record warm waters are certainly one of the reasons the Hurricane Center added more names. The excess warm water will provide the necessary fuel for new storms to develop in September and October. Lee became the 13th named hurricane this year, very close to the seasonal average.
Lea is immediately followed by the newly formed Tropical Depression No. 14. It is likely to become Tropical Storm Margo and also develop into a hurricane. Other tropical storms are likely to develop over the next week. The hurricane season will last until November 30, which means we still have a long way to go before we can lower our guard.