The article has been automatically translated into English by Google Translate from Russian and has not been edited.
Переклад цього матеріалу українською мовою з російської було автоматично здійснено сервісом Google Translate, без подальшого редагування тексту.
Bu məqalə Google Translate servisi vasitəsi ilə avtomatik olaraq rus dilindən azərbaycan dilinə tərcümə olunmuşdur. Bundan sonra mətn redaktə edilməmişdir.
You can spend a weekend at Sarah Jessica Parker's summer house for only $20: how to book
'15.08.2022'
Nadezhda Verbitskaya
Subscribe to ForumDaily NewYork on Google News
For just one weekend, a luxury getaway to the Hamptons can be booked for as little as $19,98. How? Sarah Jessica Parker, our beloved "Carrie Bradshaw," is opening her East Hampton home on Booking.com for the weekend of August 26-28, reports Time-out.
The Sarah Jessica Parker Beach House can be booked for two nights - from August 26 to August 28 - for only $19,98. This amount shows the year the star made her debut as Carrie Bradshaw on Sex and the City.
On the subject: In the footsteps of Carrie Bradshaw: 7 locations in New York from the series "Sex and the City"
Those lucky enough to stay there will love her 1940s beachfront cottage with three bedrooms, a brick fireplace, a closet full of shoes, a home bar, beach access and a spacious terrace surrounded by lush greenery.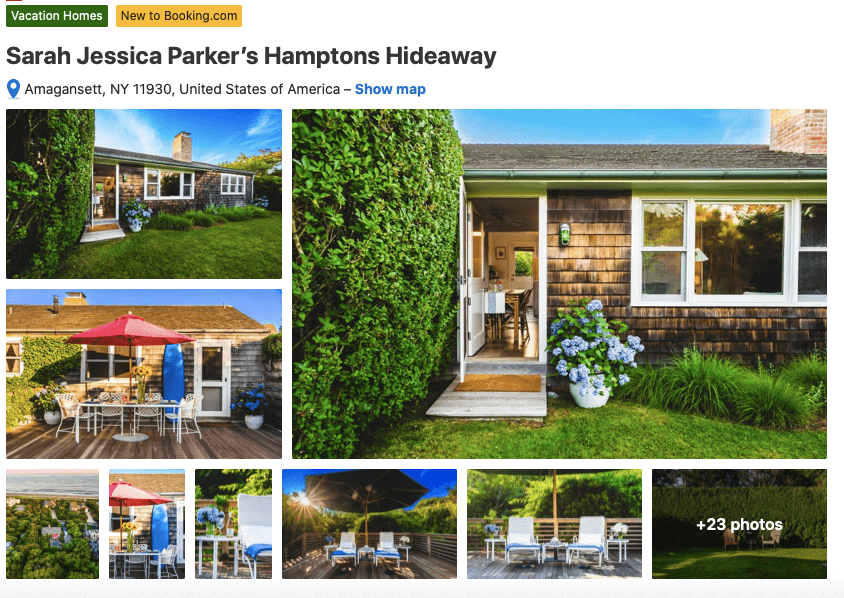 "When we designed it, our goal was to create the perfect getaway for family and friends that was comfortable, private and emphasized proximity to the beach," Sarah Jessica Parker said in a statement. "We furnished it with vintage items that we have collected over the years. And they turned the backyard into a place where we could enjoy summer sunsets, barbecues and fun gatherings. It has been designed with love, with relaxation and happy times in mind. We are delighted to welcome our guests from Booking.com and give them a holiday in our favorite home."
Guests can also sample wine and dine like an actress at local hotspots like Nick & Toni's and Lobster Roll, as well as stroll around the Hamptons.
Bookings for the Sarah Jessica Parker Homestay will be available Tuesday, August 23 starting at 12:00 pm ET. But you need to be first in line, because the line is busy, and accommodation is offered on a "first-come – first-served" basis.
Bookmark this linkso you can quickly book your accommodation and enjoy this great holiday!